Basic Equipment for Starting up a Fashion Business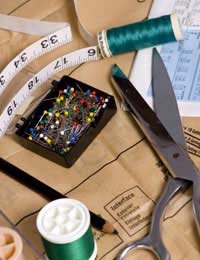 One of the most important things to know before you start a fashion design business is how much your basic equipment will cost. Whether you buy it used or new, it will still constitute a large portion of your start-up expenses. And it's essential that you buy good quality, reliable equipment, because breakdowns later on could cost your developing business even more.
Getting together the right kit can be difficult, as it includes things you might not think of before you actually run into trouble. Don't be tempted to dismiss smaller items as trivial - they won't seem trivial when they're not there and you have nothing else which can do the job.
Essential Equipment
No matter what your plans for your fashion business, there are certain items you cannot afford to be without.
Sewing or knitting machine:The phrase 'hand made' does not mean that anybody expects you to work without this. Depending on your expected production levels and the number of workers in your business, you may need several of these. Alternatively, you can use just one and work in shifts, but a second machine is still a good idea in case the first stops working.
Scissors and knives: Good quality scissors make all the difference when it comes to cutting fabric quickly and neatly, but there are some jobs to which a good craft knife is much better suited.
Needles and pins:Machines can get through needles fast, so you should have a good supply of replacements. It's also worth changing your machine needles to suit the fabrics you're working with. You'll inevitably have to do some bits of work by hand, so make sure you have ordinary hand sewing needles available. Pins are often needed for both.
Chalk: Nothing beats it for transferring paper patterns to fabric, and it's easy to clean up afterwards. Chalk pencils are a particularly good idea as they don't get your hands dirty, putting other items at risk. Blue ones are available for marking light coloured fabrics.
Tape: In any industrial process, tape has a habit of being a saviour. Not only can it enable temporary repairs of damaged equipment, it can hold fabric together when you don't want to use pins. Use gaffa tape for the former and fabric or carpet tape for the latter. Never rely on tape to mend cables or wires.
An ironing board: This isn't just for making finished items look good - you'll also need to press seams and to create features like pleats. It can be used for transferring designs, activating wonderweb tape and smoothing out fabric in preparation for transferring patterns.
You'll find that most fabric wholesalers stock a lot of this equipment in bulk at discount prices. It can also be worth checking out your local hardware store.
Choosing Your Sewing Machine
If your fashion design business is based around sewing, choosing the right machine is one of the most important business decisions you'll have to make. Don't assume that you can get by with your ordinary domestic one (though it may be useful for back-up). Domestic sewing machines are not built for heavy workloads. You'll need to purchase an industrial quality machine, and that's likely to cost you around £500.
There are many different types of industrial sewing machine on the market. Many are designed for specialist tasks, such as buttonholing, embroidery or leatherworking. A good general machine will cost more but will be able to do most of these tasks for you - competently if not excellently. Singer Centres are a good place to investigate industrial machines in person, as they usually carry several different models and you can be sure of receiving impartial advice. They also operate an excellent guarantee system and repair service, though you will have to be able to transport your machine to and from them yourself. Wherever you make your purchase, make sure that repairs are part of the deal. No matter how good your machine is, working with it on a continual basis will inevitably result in some problems - you can expect to have to get it fixed roughly once every eight months.
Choosing your sewing machine and basic equipment may be a lot of hassle, but getting it right at the start will ensure that the production side of your fashion design business runs smoothly thereafter.
You might also like...
I want to start a fashion business. I make beautiful designs at the comfort of my house and I want to own a shop. I want to know the necessary machines that would be needed to give a dress a finished and professional look as all I have now is a manual sewing machine and I want to venture into making ready-made wears.
Leeyah
- 8-May-19 @ 7:08 PM
please i want to open a fashiondesigning business.am already doing it in my apartment but need to get a shop and expand it.can you help me with the necessary equipments i need to get.itz kinda urgent.thanks
amykvng
- 14-Dec-18 @ 5:13 PM
I am a self taught designer i prolly learnt 80% of what i know about fashion online and with little coaching from an experinced friend, now my brothers want to invest in me to own a fashion store of my own.....and i am a little worried cause i feel like i need to still attend training, although my designs are great and my sewing doesn't scream of unprofessionalism at all but i can't tell my brothers to wait for me to finish up further training before they invest in me...how do i cope with attending training, owning a store and making money at the same time....i might need a partner that is a professional....its urgent pls
browny
- 11-Oct-18 @ 1:50 AM
Iam the CEO of lifeline charity organisation base in central of Ghana west African and i have a fashion designed equipment and offer free fashion design to male and female at Breman Asikuma Central Region of Ghana i need more advice from Start A fashion business group hope to hear from you soon
pastor nana
- 27-May-18 @ 4:44 PM
I am teacher and I want to go into fashion business. Please help me how do I go about it. I need your guide. thanks
musade
- 24-Apr-18 @ 11:48 AM
I am a driver in ACC I would like to open tailor shop please give me tips what should I do
Ahmad
- 20-Apr-18 @ 5:47 AM
Pls I want to start up a fashion designing business .is it OK to employ a good tailor for a start? Also I don't know how to get one. Thanks
Hezik
- 30-Mar-18 @ 4:40 PM
Pls how many types of machine is there in fashion and design,help me to list it with their name and uses.and also stone machine name
Wumlet
- 6-Oct-17 @ 11:52 PM
Am a fashion designer, I when for two year training in Nikky Africana in Lagos, I still do extra training apart from my school. Am the one of the best student in my set. But my parents didn't support me they ask me to go back for my HND. I need Capital to start up my own business
Kdebby
- 26-Aug-17 @ 9:10 PM
Fashion is my passion.I live it,I breathe it I have a portfolio and I can sew.I'm a seamstress...you can find someone more experience but you won't found someone so passionate like me.
Andy
- 6-Aug-17 @ 9:49 PM
I am a graduate intending to go into full time fashion biz. I got smone who wants to partner with me. Like he got the money n I have the idea. I would luv to get an advice on the requirements to start up. Thanks
dofy
- 3-Jul-17 @ 8:31 PM
I am a self-taught fashion designer with over 5,000 designs. I did finish a course in fashion merchandising and design to see what I missedon my own and it was mostly business factors. I however am not a seamstress nor patternmaker and cannot over 18 months find a local seamstress to collaborate. With that I thought I could sell designs..Mine are not professionally illustrated but when people see my designs they want tobuy them but with or without a seamstress , the price would be too high as a finished product. I need to either sell designs or find a seamstress/patternmaker and find clientele who appreciate the investment.
Dok
- 30-May-17 @ 4:20 PM
Hi there, could someone tell me where to buy an sleeve to use on an iron table to help me iron the sleeves, of jacket etc.. Many thanks Anselme
Papi
- 6-Apr-17 @ 2:01 PM
mamkhize - Your Question:
Iam a graduate I want to start my own fashion business.I found a partner is it okay to start this business with another graduate.
---
Our Response:
You can start a business with whoever you please.
StartAFashionBusiness
- 31-Jan-17 @ 12:45 PM
Iam a graduate I want to start my own fashion business.I found a partner is it okay to start this business with another graduate.
mamkhize
- 30-Jan-17 @ 8:01 PM
Blaqie chan - Your Question:
Hi i've already started my fashion design business and ive neva been in a class of fashion,so I want to knw is it ok to be a fashion designer without a degree.
---
Our Response:
Yes, it is fine to start your fashion design business without a degree. A degree will give you a set of skills to help you on your way, it will also help you explore different methods and additional ways of creating that you may have not perhaps thought about. It will also give you more gravitas when it comes to your personal CV. However, this is not necessary if you know exactly what you wish to do and how you propose to achieve your goals.
StartAFashionBusiness
- 9-Aug-16 @ 10:54 AM
Hi i've already started my fashion design business and ive neva been in a class of fashion,so i want to knw is it ok to be a fashion designer without a degree.
Blaqie chan
- 8-Aug-16 @ 3:01 PM
please I want you guys to send me all the appropriate tools and equipment I may need to start my new life as fashion designer, and all the appropriate magazines that will help me a lot
lawrencia1
- 5-Aug-16 @ 4:57 PM
Hii I have just completed my graduation & want to become a fashion designer not on a large scale, I mean not for others I just love clothes, designer wear & want myself to b a designer but unfortunately I'm not understanding how to start actually ?? Please suggest me .
Maseera
- 9-Apr-16 @ 11:33 AM