Choosing the Right Sewing Machine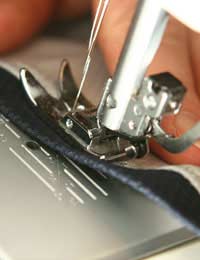 If you're working with conventional fabric-based designs, the most important piece of equipment you'll need for your fashion business is your sewing machine. But modern sewing machines vary enormously, and there are all sorts of different ones on the market, from general models to special buttonholers to embroidery machines. Some require manual setting at every stage and some incorporate computers which can enable you to pre-set them from your patterns. How can you choose the right one for your fashion designs?
The first rule of choosing sewing machines is that you shouldn't rely on just one. If your machine breaks (even the best ones need repairs from time to time when managing a heavy load) you can experience expensive delays if you don't have back-up. A simple, older machine will usually suffice to let you get on with basic operations whilst your main machine is being repaired. Of course, depending on the size of your business, you may need several machines anyway.
Sewing Machine Tasks
In most fashion design businesses, sewing machines are not used just for sewing. It's important to think about the specialist tasks which you may need your machine to handle.
Buttonholing - Making neat buttonholes by hand is a time consuming task and puts a lot of stress on your fingers, which is something you need to avoid in the fashion design business (many seamstresses end up with damaged hands). Specialist buttonholing machines are cheap and easy to use, but a good general machine should be able to perform this function adequately.
Embroidery - Whilst most general machines now feature some embroidery options, specialist embroidery machines are the best choice if you want to use your own designs. Much more adaptable, most now make it easy for you to program in your own patterns so that you don't have to keep making adjustments as you work.
Zip fitting - Fitting a zip so that it doesn't pull loose after being used a few times is trickier than it might seem. Look for a machine with a specialist zip option which will also make sure you don't get any fraying at the bottom of the zip.
Leatherworking - If you're working with leather or other heavyweight materials, your sewing machine will need to be strong enough to handle them. Many domestic machines break after doing just a little of this kind of work. Even with the right machine, you'll need to remember to switch to a heavier grade of needle.
Working with plastics - Modern clothing often incorporates materials like PVC which cannot be stitched in the ordinary way because the stitches would just tear through and pull out. There are specialist stitches, usually based on a chain pattern, designed to get around this. Specialist machines are available at reasonable prices, but you may be able to find them on a good general machine.
Industrial Sewing Machines
When you're running a fashion design business and using your machine for several hours every working day, an ordinary domestic sewing machine won't do. Most of these are simply not designed to handle that sort of strain. You'll need an industrial quality sewing machine backed by a good guarantee and repairs policy. Be warned - this can add as much as £400 to the price, though if you keep your eyes open for discounts you should be able to get a good machine for about £300 in total. Second hand machines are often in good enough condition to be acceptable as back-up, but are an unwise choice for your primary machine, as you cannot afford the risk of things going wrong all the time.
Although it's now possible to buy high quality industrial sewing machines online, you should generally aim to have a good look at the machines which interest you before you make your choice. Singer centres are an excellent place to buy sewing machines as they do carry industrial models (though they may not always have them on display) and they offer a very good, low cost guarantee system with repairs usually taking just three to four days. However, they will not collect your machine when it needs to be repaired, so you'll need to be able to transport it to them yourself. Industrial machines can be very heavy, so make sure you have plans in place for dealing with this eventuality.
If you make sure to buy the right kind of sewing machine for your fashion design business, and if you treat it well, with regular cleaning, there's no reason why it shouldn't last you for many long years.
You might also like...
I would like to get some tips on how to save money to start a business as i 'm not employed. please help i want to buy sewing machines and work from home.
Slenda
- 19-May-16 @ 2:13 AM
Can someone please assist me on where to buy a machine that makes hats.Very Urgent
Adele
- 26-May-12 @ 9:31 AM