Meeting Demand for Your Fashion Designs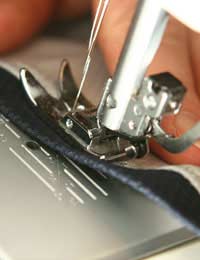 No matter how carefully you go about planning things in your fashion design business, the balance of supply and demand can be hard to get right. Customer demand alone is a difficult factor to predict. If you take on too many employees when times are good, you risk finding yourself in trouble when demand decreases and you can't afford to pay them. But if you have too few, how can you keep up if one of your designs suddenly becomes popular? With too few workers you risk missing out on valuable revenue.
When a fashion business is new, it's not unusual for the designer to be doing all the manufacturing work themselves, or sharing it with business partners or co-directors. You may be wary of the complicated financial processes involved in taking on employees. Fortunately, there's a way to work around this.
Hiring Contract Workers
When you take on contract workers you are not hiring employees as such - rather, you are entering into business relationships with independent professionals who take care of their own taxes. They are selling you a service. You can approach this just as you would any other business deal. Make sure you see samples of their work and, if possible, get references from their previous clients. Discuss your designs with them, make sure you both understand your patterns in the same way, and show them examples of what the finished garments should look like. Never commission the first version of a new garment from a contract worker.
When your work is doing well, it may be necessary to take on several contract workers to produce the same type of garment. When you do this, it's very important to check that they are all making the garment in the same way. Customers expect consistency.
Some contract workers offer rates by the hour, but you should always try to negotiate a rate per garment. Your local business support service should be able to advise you of the industry average. When you're paying by the hour, you have no legal recourse if a particular contractor works really slowly, and it's potentially difficult for you to balance your costs against your output.
Try to build up a regular stable of contractors whom you can trust. When you need to look for more, ask them for recommendations. If you are working on a large scale, you can consider outsourcing work to contract agencies. These can take away a lot of the hassle of the contracting process, supervising individual workers themselves and offering you greater recourse if something goes wrong. However, they also take a cut, making the job more expensive.
Contracting Abroad
If you're keen to reduce your costs, you can consider contracting abroad. This doesn't have to be exploitative. Because the cost of living is lower in developing countries, smaller payments can actually go a lot further. Some contracting agencies specialise in contracting abroad, and can take care of the tax issues for you. It's always better to make this kind of arrangement via an agency or similar organisation, as it will be infeasible for you to supervise the work process yourself.
Unfortunately, contracting abroad can lead to delays. Aside from basic the time taken to ship your finished garments to you, those garments can get stuck in customs, sometimes for weeks. Obviously, this is a serious problem if you have tight deadlines to meet. This is more of a problem in arrangements with some countries than with others. Ask the agency how they will be able to compensate you if this happens.
There can also be ethical issues with contracting abroad. Even if you travel to visit workers in person, which may cost more than you can afford, it's difficult fore you to guarantee that they're working under good conditions and being properly paid by the agency. Furthermore, you will be exporting jobs which you could give to workers in the UK. This may lead to you losing some of the government support services you would otherwise be entitled to.
Contracting can be a thorny business so it's best to keep it as simple as possible, choosing the option which best suits your needs. When it works it can make keeping up with supply and demand much, much easier.
You might also like...