Choosing the Right Workspace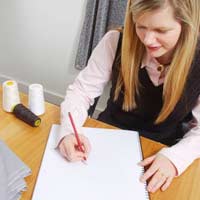 Many people get involved in fashion design because it doesn't require special premises, so initial overheads can be kept low. However, no matter where you're working from, it's important to design your workspace properly. Getting this right at the start will make things much easier for you later on. But to create the right environment, you'll need to think carefully about the particular needs of a fashion business.
Workspace Priorities
There are several factors which you should prioritise in setting up your workspace:-
Storage Capacity - Even if the focus of your fashion design business is on small items like handbags or hats, you'll need to store a lot of fabric, so your workspace should either contain or directly connect to adequate space in which to do this.
Cutting Space - You'll need room to lay out fabric, transfer patterns and cut pieces to size. For most fashion design businesses, this will mean needing an area of floor or table-surface at least six foot by three (to take account of the size of human bodies).
Lighting - Designing and making clothes requires a lot of close work. It's essential to have the right lighting conditions so that you don't damage your eyes. Natural light is good, but you should make sure you have adequate electric light available. Spotlights are ideal, enabling you to illuminate specific pieces of work as required.
Power Sources - If you're working in an older house or in a warehouse-type building, you may not have adequate power points to run all the lighting and machinery you need. Using lots of extension leads can create a fire risk in a room which is likely to be full of flammable material, so consult an electrician if this is a problem.
Accessibility - Make sure you plan your workspace so that you can get easy access to all the things you need. It's a good idea to use a swivel chair to work at your sewing machine and to have small drawers containing things like pins and thread where you can just turn round and grab them.
Comfort - Your fashion design business workspace is somewhere you're going to be spending a lot of time, so make sure you'll be comfortable there. Little touches like a radio and a kettle can make long shifts a lot more pleasant.
Working From Home
Many fashion designers choose to work from home, at least in the early stages of their careers, because it removes the need to shell out money for special premises. However, just because you work from home doesn't mean you can afford to be careless about your working environment. In fact, it can be all the more important to get it right, because it's something you'll have trouble getting away from.
Anyone who has worked long shifts in any job knows the rush you feel when you leave the premises and don't have to look at that environment any more. Working from home can be quite claustrophobic, making it hard to get away from the pressures of work. Don't underestimate the damaging effects this can have on you and your business. If you do decide to work from home, try to keep your business workspace in a room you don't otherwise use. Set yourself strict times each day after which you will leave your work and aim to stop thinking about it.
If you run your fashion design business from home, it won't be covered by your ordinary house and contents insurance policy - you'll need to make special arrangements with your insurer to take the value of your business stock into account. When you work out your domestic power consumption, you'll be able to allocate a reasonable portion of that to your business and write it off against tax as a business expense.
Working from home will naturally place limits on your production capacity, so you should always consider it a short term option. If your fashion business takes off, you'll need to be ready to relocate. Make sure that essential equipment can be moved with minimal fuss if this occurs.
Properly designing your working environment can make a big difference to the speed and efficiency of your work, as well as making it easier for you to enjoy your job and get the most out of your fashion design business.
You might also like...