Working With Contractors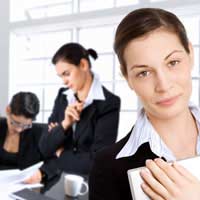 Because there are so many different aspects to the fashion business, with so many different skills required, few companies can do it all in house. This means that sooner or later you are likely to find yourself involved with contractors and subcontractors. Understanding the practical issues and legal framework involved will help you to ensure that you get good deals and avoid being ripped off.
Finding Contractors
When you're starting out in the fashion business everything depends on your network on contacts. This can take a while to develop and in the meantime you can find yourself struggling to find the write individuals or companies to provide you with particular products or services. The best places to turn for help are the internet, the library, and your local business support organisation. Guilds, unions and other trade-specific organisations can also help.
The number one thing to look for when choosing a contractor is references. Make sure these come from reliable sources (be wary, for instance, of references from businesses owned by members of the same family - Companies House can help you check these things out). Make sure that they refer to work that has already been completed.
Good references are more important than low prices because you need to know the contractor won't disappear with your money. The biggest problem with contracting as a small business is that because the sums of money exchanged are often relatively small (though still important to your survival), it can be prohibitively expensive to pursue them through the courts. Everything therefore depends on reputation. Contractors understand this and good ones will show you what you need.
Drawing Up Contracts
The most important things to focus on when drawing up a contract are accuracy and specificity. Don't be hasty - take your time and make sure you are using exactly the right language to define your terms. Don't assume that anything is obvious or can be assumed on the basis of looser wording - this could leave legal loopholes that cause you problems later on.
A contract is there to provide legal protection for you and the person or company you are working with. It can also act as a guide to make sure you both have the same understanding of the deal. Remember to pay attention not just to product or service and money, but also to timing, methods of delivery, actions to be taken if things go wrong, and the duration of the arrangement.
Although they need to be precise, contracts do not need to be complicated. Never sign anything you don't fully understand and never take a contractor's word for it that any aspect of the contract is standard for the business. Don't feel pressured and always be ready to step back if you need more time to think about things. Successful business people don't just make bold decisions, they make good ones.
Subcontracting Your Work
When you subcontract to people who will be doing work on your behalf, such as sewing clothes you have designed, you can find yourself caught between two agreements. One is the agreement you have with the subcontractor and the other is the agreement you have made to deliver the finished product to a buyer. This means that subcontracting needs to be negotiated very carefully.
Similar issues can arise if you have arranged to produce and sell something which is then delayed because a supplier lets you down. Be careful that you do not place yourself in a position where you are liable to your buyer for the cost of delays but you cannot recoup the costs from your supplier or subcontractor. Bear in mind that things can go wrong even when people have the best of intentions, so a good contract is your surest form of protection.
When Suppliers Subcontract
Unfortunately, you may not be the only person who is subcontracting as part of your business arrangements, so things have the potential to get more complicated still. Remember that any agreement between you and a contractor should cover for services which they may subcontract, too, and do not agree to any clause that nullifies this. Things going wrong because their subcontractors have let them down should not be your problem.
Dealing with contractors can require you to be hard-headed and may sometimes leave you feeling that you've been mean, but this is far better in the long term than being a pushover. In fact, it could be essential to the survival of your business. If you are straightforward from the start, contracting can be kept simple and practical and need not cause you any serious difficulties.
You might also like...
Hi all, I want to get knowledge and skills on fashion design. Nurru
nureen
- 28-Nov-16 @ 1:31 PM