Sourcing Clothes Rails, Mannequins and Display Props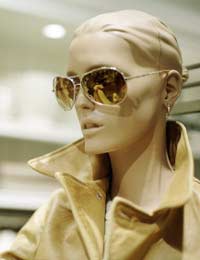 Wherever you display your work in public, whether it's on a market stall or in your own boutique, whether you're actually selling or just promoting, you'll need to make sure it looks its best. It's no good offering clothes folded on a table where customers can't see them properly, or hanging them up in makeshift arrangements which reflect badly on your aesthetic judgement. To display them effectively, you'll need the proper equipment.
Clothes Rails
The most basic piece of equipment you'll need to display clothing is a clothes rail. It's usually advisable to buy at least two of these. If you're running a stall, you can position them on either side, and if one breaks then you'll still have something you can use. There are several things you need to consider when purchasing clothes rails:-
Durability - How strong is the rail (particularly at its joints) and how long can you reasonably expect it to last? Buying a strong rail is especially important if you're selling heavy garments like coats. Be careful not to overload more lightly built rails.
Portability - The strongest sorts of rail cannot be dismantled, so you'll either need to walk along the street pushing them or you'll need a van to move them around in. Other rails can be dismantled and folded into a small space (rather like tent poles), so they'll fit in an ordinary car.
Balance - If there are a lot of people crowding round your rail, the last thing you need is for it to fall over. Some cheaper rails are designed for domestic use and don't balance very well. Others have protruding feet which can trip up your customers.
Price - Usable clothing rails start at about £25, and there is no need to spend more than £100. Be wary because some vendors charge well over the odds.
Basic clothes rails can be purchased from ordinary household goods stores. Rails which can be dismantled usually require an alum key (also known as an Allen key or hex key) - make sure you carry a spare so that you don't find yourself stuck. When you're hanging up clothes, use matching hangers (available from the same retailers) to create a professional look.
Mannequins
Mannequins are a great way to display clothing, but they can be very expensive. Basic mannequins start at about £130, but you'll usually need to purchase wigs (at least £15) to make them look at all natural. Child size mannequins are easily available, but most adult mannequins are (if you'll excuse the pun) model shaped, and it can be expensive to obtain them in larger sizes.
Remember that a mannequin looks very strange wearing only one garment. You'll need to dress them completely, with a full set of clothes, shoes and accessories. Charity shops can be a useful source of affordable bits and pieces which you can arrange to create the look you want.
A cheaper way to approach the display problem is to use partial mannequins. Single legs, for instance, start at about £20 and are idea for displaying designer hosiery, socks or shoes. Torso forms can be used for shirts, blouses and other tops, but can be difficult to set up in pleasing displays. Heads are also available, for displaying hats, scarves and jewellery. Don't assume that you need to restrict yourself to natural colours. Mannequins and partial mannequins are also available in black, white, bronze and see-through plastic, so choose the look which will work most effectively with your designs.
These days it's easy to order mannequins over the internet. Make sure that you check them thoroughly when they arrive and that you have a good returns policy. A well-made mannequin should last for well over a decade if you treat it well.
You might also like...
I am opening a small business next january as a market trader. I was wondering if you have any tips on finding suppliers that supply to small businesses like me as most suppliers ive come across ask for way to high a min order. thanks for your time. kaz