How to Store and Care for Bulk Fabric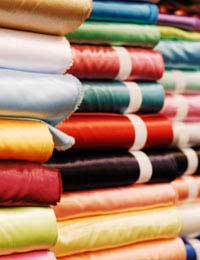 When you're buying fabric in bulk for your fashion design business, you won't be able to use all of it immediately. Some materials which can be used in a range of different garments, like lining fabrics and basic sewing accessories, may end up being stored over long periods of time. In this situation, it's essential that you maintain high standards of fabric care and that you undertake the cleaning of each type of fabric in the appropriate way.
When you set up your business, you should think carefully about the storage facilities you can provide for fabric and for finished garments. You should make sure that you have the necessary facilities for cleaning fabric and that you have budgeted for cleaning materials. Keeping your stored fabric in good condition is essential to the welfare of your business - having to replace it can be extremely expensive and can create damaging delays.
Protecting your Stored Fabric
To keep your stored fabric safe, it's important that you can successfully identify the threats it faces and take action against each one. Even if you're running your business from home, the difficulty involved in moving large amounts of fabric around can create problems which you don't experience in your ordinary domestic life. These may include the following:-
Damp - In damp conditions, stored fabric is often affected by mould. Keep your storage facilities as dry as possible and use silica gel to protect particularly vulnerable fabrics. Colour sensitive silica gel is now available, and can tell you how much water it has absorbed over time so that you will know when to replace it.
Bright light - Most coloured fabrics fade if exposed to strong light for any length of time. Using individual containers or bags for bales of fabric (always making sure it can still 'breathe') means that you can access your main storage facilities without exposing all your fabrics to light.
Heat - When you have a lot of fabric folded up together, under pressure, it can be very vulnerable to heat damage in warm weather. Protect printed and plastic-based fabrics by folding them over sheets of tissue paper so that they don't stick to themselves. Try to keep your storage facilities between 5ºC and 25ºC.
Mice - Even in the most hygienic conditions, mice can be a problem. They often nibble holes in fabric and they may stain it with their droppings. Mousetraps and poison can help to reduce mouse numbers, but the best solution is a cat. Even a visiting cat will discourage mice with its scent.
Insects - Insect pests can be just as damaging and harder to get rid of. Some insect repellents can damage your fabric and most will make it smell bad. Always use the gentlest available treatment. Reduce the risk by storing your fabric away from open windows and above the ground floor of your premises (or on raised shelves).
Above all, you should check your fabric regularly - even if you're not expecting to use it in the near future. Most of the above problems can be resolved with prompt treatment, and even if your fabric has sustained some damage, you may be able to recover the bulk of it.
Fabric Cleaning
When cleaning fabric to prepare it for use, it's important to be gentle. Even with the best available products, repeated washing can be damaging. Use a gentle detergent and fabric conditioner. Never use biological washing power as this may cause allergic reactions in your customers. Make sure that you use the appropriate temperature setting for each type of fabric. Machine dry it rather than hanging it out to dry - this will protect it from sunlight and will make it possible to process more at once.
If you are working with a fabric which cannot be washed, sponge it clean where necessary. If it needs major cleaning, take it to a dry cleaning specialist or consider purchasing your own dry cleaning machine. This can be a practical solution for businesses which regularly deal with large quantities of fragile fabrics.
Unfortunately, bulk fabric is not the easiest of things to store over the long term, but with proper care and attention you can substantially reduce the risks, making sure that it's in good condition when you're ready to work with it.
You might also like...