Understanding Fabric Colours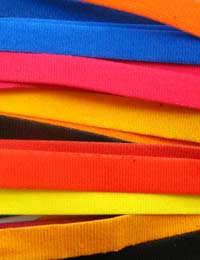 A love of colour is what attracts many people to fashion in the first place, and understanding colour is vital to developing a successful career in the fashion industry.
But what are the origins of different types of colour, what do they represent, and how can they be utilised most effectively?
Different colours can have different symbolic meanings around the world, and their meanings are always shifting on account of fashion. But if you understand colour well, you can use an awareness of wider cultural trends to help you anticipate what the next popular colour will be.
Red
The most dramatic colour in the fashion palette, red is more often used for subtle highlights than for whole garments, though it can work well in daring party dresses. One traditional source is crushed cochineal beetles, so foreign-bought red fabrics, especially those from southern Europe, may not be suitable for vegetarians. Red is used all around the world as a colour of celebration.
Orange
A difficult colour to work with because it clashes with many people's skin, orange is only intermittently fashionable and even then many people won't dare to wear it. It suits simply cut clothes in lightweight fabrics but can be difficult to match with other colours, so be careful how you present it - muted colours tend to be the best complement.
Yellow
Strictly a summer colour, yellow is best suited to lightweight fabrics that move around and catch the light. Because of the heavy metals involved in creating modern yellow dyes, fabrics should be washed before use to make sure the dye is fast. Traditional yellow dyes are based on saffron flowers, producing variants on the shade seen in the robes of Buddhist monks.
Green
Green is one of the easiest colours to produce using natural dyes, as anyone who's found grass stains on their clothes after a picnic will realise. Because it can clash with pink shades in skin, many people are uncomfortable about wearing vivid greens, but deeper shades can work well, especially in winter clothes; and olive greens, when in fashion, are great for suits.
Blue
Different shades of blue need to be worked with very differently. Light blues are strictly for summer, unless in denim fabrics. Navy blue is only occasionally fashionable but can work well in suits - unfortunately it has been used a little too often in uniforms, giving it awkward associations. Royal blue has lots of potential but is hard to put with other colours - try it with black for dramatic effect.
Purple
Whilst lavender is sometimes popular as a summer colour, best suited to lightweight fabrics, deeper purples are rarely used in mainstream fashion because they can so easily overpower a look. They also have complex symbolic associations because they used to be worn only by royalty, owing to the high cost of shellfish-based dyes. Subtler shades like mauve can work well in textured fabrics.
Pink
Pink is so ubiquitous in girls' fashion at the moment that it's hard to remember a time when it wasn't around, but it hasn't always been popular and it will doubtless disappear again in due course. Because of its strong feminine associations it's best suited to delicate clothing and it will always appeal to die-hard romantics.
Brown
Although it's often seen as a dull, neutral colour, brown can make a strong statement. It works surprisingly well in lightly textured fabrics like brushed silk and lace, and is very flexible in terms of colour combinations. It tends to be most popular in autumn. However, brown clothes need to be sharply cut to avoid those old stereotypes.
Grey
Grey clothes are often perceived as dull, but well-cut grey suits can look chic and sophisticated. Dark charcoal greys can create a powerful impression whilst soft greys enhance pale skin. Try combining it with small areas of muted blue or pink.
Black
Probably the easiest colour to work with, black is sadly too often used to hide poor workmanship when it could be used to emphasise a designer's skills. It's produced using a number of different dyeing techniques, so you can't always combine two blacks - if you want your buyers to mix and match, check your fabrics carefully by repeatedly washing swatches and observing how they fade.
White
White can present problems for the fashion designer because of its strong symbolic associations. It works best in floaty summer clothes or as a backdrop to more dramatic colours. Pure white fabric is usually produced by bleaching, meaning that some types can be very fragile - be careful to ensure you're buying a good quality product.
You might also like...
I have learnt a lot from you. please I want to go into fashion design.. but I don't know how to go about it..please I need your advice
VivAy
- 22-Mar-19 @ 11:28 AM