Should You Use Professional or Amateur Models?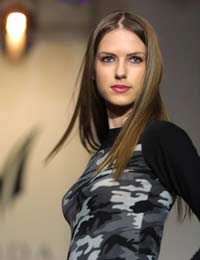 However you approach it, sooner or later fashion marketing requires models. Whether you're taking pictures for your apparel catalogue or style library, or making your work look beautiful on the catwalk, modelling is one of the essential tools of the trade. Modelling agencies can supply you with male and female models to suit your style requirements but - even if they're not supermodel material - their services can be expensive. As a new designer with limited funds you may find that they are not the best option for you. Then again, as a new designer, you may need them to teach you how the modelling process works.
Amateur vs. Professional Models
The simplest, cost-free way to promote your designs is to model them yourself. Many designers do this, but it can be problematic, as you may not have the kind of figure you think your clothes would look best on. What's more, you may be designing for people of the opposite sex, or for people in a different age group. And you won't be available to talk to possibly buyers and hunt for sales leads at shows whilst you're busy posing. Given all this, modelling your own designs should usually be treated as a last resort.
For smaller shows, especially in niche marketing, the use of amateur models is the norm and is a practical way to get the job done without having to pay expensive fees. This is usually undertaken by recruiting friends and offering them a few drinks (which naturally, should be provided after the performance). If you have friends who've modelled before, you're probably okay. If not, beware of nerves resulting in unflattering behaviour or sudden stage fright meaning your clothes don't get displayed at all.
The biggest mistake most amateur models make is to move too fast. Encourage your models to walk and turn slowly, and practice with them before the big day. For catalogue photoshoots, remind them that it's important to be expressive - they don't have to try and look like mannequins.
In larger shows, amateur models are only ever used as a gimmick. If you rely on them, you won't get taken seriously. You may find, however, that the big agencies have lets of different designers trying to book their models before these events, so don't leave it until the last minute or you won't get what you need.
Dressing and Posing Models
The best thing about working with professional models is not that they're beautiful, showing off your apparel to best effect - it's that they know what they're doing. This will make your job a lot easier. However, all models have different rules, and they'll expect you to have yours, so make sure you discuss this before you start working together.
In a society where it's generally taboo to touch the body of another person with whom you're not in an intimate relationship, dressing models can feel awkward at first. Think of it like the relationship you have with your doctor, where there's physical contact but within the bounds of a well understood code of conduct. There's no time, at a busy fashion show, for continual requests and apologies - everybody just gets on with the job. Unless you've had time to work with the same model beforehand, your clothes aren't going to fit them perfectly, so be ready with safety pins and fabric tape to adjust them as required, and don't be shy about doing so. Keep hairstyles and make-up as simple as possible so that they'll work with several outfits. Footwear should be able to be taken on and off at speed. Even in a static photoshoot, this is important, as you'll usually want to photograph more than one garment at a time.
It's important that your models understand what you're trying to do as a designer, what you want your clothes to say and how you want your clothes to move. Contrary to their media image, most models are far from stupid; they know their business very well and will be able to suggest routines which will help to sell your work. With their help, you can get the hang of how to handle a fashion show much more quickly and easily. With your help, they'll be able to make your designs a success.
You might also like...