What Customers Want: Quotes from Fashion Shoppers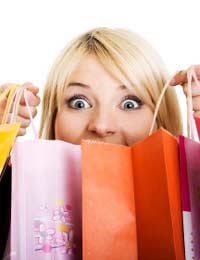 What's the single most useful thing a fashion designer can know? Most people who've been in the business for a while will tell you that it's simple: they want to know what customers want. So we set out to interview some ordinary shoppers and find out what they had to say.
Size Matters
One of the first things to come up when we started discussing people's shopping priorities was size. No matter whether you're plump or slim, tall or short, it seems that thats the way clothing shops present size is a big problem. More than one of the people we spoke to described it as 'apparently random', with size numbers telling them little about how garments would actually fit, and several felt that the proportions of clothes were also a problem.
"It's particularly hard to find well fitting trousers and jeans," said Morag, although there's nothing unusual about her figure. Joanna laments "I hate the fact that I have to try on three sizes in every shop I go into to get the best fit."
It seems there is a good side to it, though. "Sizing is crazy, but it's nice when you're in denial and a top fits you and you think, am I really that size?" says Laura, though she suspects that the shop where she got lucky was really just being generous.
The Question of Quality
How important is good quality when it comes to making fashion choices? Most of the people we spoke to said that finding clothes that will last is a big priority, with some complaining that jeans from some of the big chain stores sometimes fall apart in a matter of weeks.
"I've noticed a big increase in things that are dry clean only, or even more annoyingly/bafflingly, labelled 'do not wash'! I thought washableness was kind of a pre-requisite for clothes...I think it speaks of laziness and cutting corners and the still-persisting 'throwaway fashion' attitude.
So I go for quality, but also things that are easy to look after," says Emma.
"I don't want to wear things that are plastered in logos and brand names," says Donald. "I want good quality clothes that look good in their own right, not just things that are fashionable."
Fashion Appeal
Proving that you can't please all of the people all of the time, Siani has a different set of priorities. "I don't really want too much quality, to be honest. If I buy jeans that last ten years the cut will be hideously unfashionable, they'll have faded to grey, and I'll still not be able to throw them out, even though I don't want to be seen in them.
"I want awesomely hot new styles that skirt the edge of being acceptable in public, and are heavily reduced in price at just the time of year I actually want to wear them. I want to be able to realise it is cold out and to go out and buy a jumper which is currently in fashion. I loathe it when the next season's clothes come out too soon and there's nothing in shops that you can wear right away."
Morag, meanwhile, feels that fashion can be problematic. "I look for quality, value for money, and clothes that will last me a long time and go with lots of things - not this week's trend that will be out of fashion by next week! So I choose classic styles and cuts."
Joanna feels that a focus on fashion can make it difficult to locate essentials. "I get annoyed by how little practical things, like flat-heeled work shoes for women or bags you can sling over your shoulder, go out of fashion for no reason and become impossible to find."
"I find most clothes on the high street are awfully samey," says Laura. "If there was a shop that had cute hooded cardigans, comfy knee length boots, and dresses with tiny wee flowers on them, then I would have found my shop."
Making it Easy
Something else that a lot of our shoppers felt was important was that the process of shopping should be easy. This is particularly important for those who don't have a lot of time and energy to spend on shopping, even if they enjoy it.
"I prefer shops that have all their range at least displayed online, so that I can pick out things I want to look at before I go to the shops - saves a lot of energy. For example, H&M have a very bad website with hardly any of their clothes on it, and Gap have no website at all to speak of. Others, like Oasis, have great websites," says Morag. But overall, she takes a positive approach. "Is there anything not to like about clothes shopping?"
You might also like...