Using Fashion Trade Shows to Promote Your Designs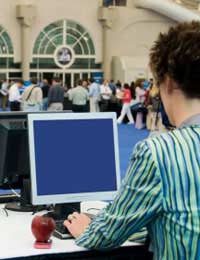 There are two sorts of marketing which most followers of fashion are aware of - selling directly to the public, and promoting high fashion designs on the catwalk. In reality, however, the fashion industry is largely structured around a third - the trade show.
Trade shows occasionally include catwalk fashion shows, but they are not open to the public and the press are rarely invited. They are aimed at bringing together designers and retailers to see how they can help each other. You'll find trade shows advertised in the fashion industry press (different from mainstream magazines about fashion) and on the internet, and you'll hear them discussed at networking events. Before you consider going to a trade show, find out which buyers are expected to be there. Booking a booth at a trade show costs money (anywhere from £15 to £200, depending on the size of the event), so you need to know that it's likely to be worth your while.
Actual goods and money rarely change hands at trade shows. The aim, for booth holders, is to generate sales leads. Be ready to talk enthusiastically about your designs and make potential buyers feel welcome. If you're lucky, you'll collect some business cards with numbers which you can call the day after the show closes. Always make your calls promptly. Buyers will see lots of other designs at the show and if you're not quick about things they may forget yours. If you have a card but can't remember much about the person it belonged to, check the official list of buyers present and do some research.
Setting up a Trade Show Booth
A trade show booth is not like a stall in a marketplace. It's unlikely to get crowded and potential buyers won't be willing to look through lots of garments hung together on rails. The emphasis should be on display. There are several things you should prioritise:-
Display the right items- Take just a few of your strongest designs - ones which look good together - and use mannequins to show them as they would look when being worn. Have a catalogue available for buyers who want to see more.
Create the right atmosphere-Bring fabric to drape around your stall, covering up tables and hardboard walls. A banner featuring your name and logo will make you more memorable.
Make your work look good- There are usually floor ports available for plugging in electrical devices, so you can use spotlights. If you can afford it, a plasma screen television playing a short advert for your work will really get attention.
Have interesting things to take away-As well as your business card and promotional materials featuring your work, you can offer free sweets or small promotional items. These will help buyers to remember you and feel well disposed towards you.
Making the Most of Trade Shows
As well as giving you the chance to promote your own work, trade shows present a great opportunity to take a look at other people's. Despite the high pressure environment, you'll find that most people at trade shows are friendly and you may pick up some useful tips. At larger trade shows you'll meet designers whose target markets are very different from yours, so that you're not in competition, and they may be willing to trade business secrets. Trade shows are great for networking so do your best to be nice to everyone and collect business cards when possible - you never know when they might come in useful.
Attending a trade show can be a nerve racking experience, especially the first time you do it. Just remember that most people there will be feeling stressed too and will be trying to deal with last minute problems - at events like this, things rarely go precisely to plan. If you remain calm and ready to improvise, there's no reason why you shouldn't make a success of it. Many buyers go to trade shows specifically to look at the work of new designers, so you won't be short of opportunity.
You might also like...