Getting your Fashion Designs Featured in the Press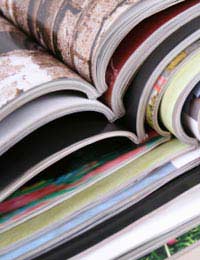 When you launch your fashion design business, you'll need potential customers to know about it, and the best way of getting through to them is to get your work featured in the press. Coverage in fashion magazines can be hard to arrange, but guarantees that you'll get noticed. Fashion magazines are the number one way most people keep up with fashion trends. You can also do effective style marketing using blogs and internet news outlets. With strong photography and astute writing, your designs can go far - but how should you go about approaching the press in the first place?
Many fashion designers go through a period when they dream of getting spotted. They believe that if they work independently for a few years, someone from a fashion magazine will notice them at a fashion show and they'll be snapped up by one of the big fashion houses before they know it. Unfortunately, real life doesn't work that way. Such stories are vanishingly rare, which is why they're big news when they happen. In the real world, if you want to get noticed, you have to get out there and grab some attention.
Preparing a Press Release
Your first tool in marketing your fashion designs to the press is the press release. Press releases stick to a very simple format. If you deviate from this to try and look interesting, your press release will get thrown in the bin. Fashion magazines and news outlets have to go through hundreds of such documents every day, so be nice to them.
The best press releases are single sheets of A4 printed in 12 point Times New Roman. It is acceptable to include further sheets, but if you do so they will often get lost, so try to say what you need to say concisely. At the top of the page you should put your business name or logo. Under this, in capital letters, write either 'FOR IMMEDIATE RELEASE' or 'FOR RELEASE ON...' giving the date when you want articles about the press release to appear. You should then write one to two sentences summing up what you have to say, and after this should come your contact details - name, telephone number, email and address. Always provide an individual point of contact, not just your business name. Next you should provide a headline - a single sentence announcing what you have to say - and then the location and date of sending (e.g.: 'London, England, 1st January 2009'). Following this should be one to three paragraphs containing the information you want to put across, then another two line summary which repeats the release date, and then web link to images which can accompany and articles written to go with the release. Space out the items on this list as much as you have room for.
It is usual to provide two to five images to accompany a fashion magazine press releases. These may include your logo and a portrait-style picture of yourself. All images should be at least 200 dpi. Needless to say, this photography is essential to successfully marketing your work, so it should be high quality and should show your designs to the best possible advantage.
Be Seen
The second most important way to get press coverage for your fashion designs is to make sure they're seen. Find out when major fashion events are happening and turn up outside with models wearing your most striking designs. Attend art shows and film premières, even if you can't afford to get in - anywhere the press are likely to be interested in what people are wearing. If possible, get celebrities to wear your clothes by offering them for free.
Television talk shows are always looking for guests and can be a great place to get free publicity. Contact them every time they plan to feature a subject related to fashion and appear there to show and (if possible) talk about your work. Always be friendly to journalists, even if they give you short shrift, as friends in the press can give you an enormous advantage. Be relaxed and accommodating.
If you get the chance to be interviewed about your designs, do your best to remain calm throughout. Decide what you want to say beforehand and stick to it. Don't try to please the interviewer, but take the initiative and respond to questions in the way which is most useful for you.
Dealing with the press can be intimidating for a beginner, but with practice you'll soon get the hang of it. Pro-active, energetic press strategies which give the fashion magazines just the material they're looking for will assure your designs good coverage.
You might also like...
Am very impress with this cos it gives me an insight on how to start my fashion business
hardeyhorlah
- 7-May-13 @ 1:57 PM