Using Accessories to Promote Your Business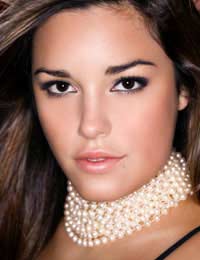 Whatever kind of clothes you're making in your fashion design business, whether for women or men, children or adults, niche markets or the mainstream, you're also going to need to make accessories. Many new designers find this perplexing if they don't intend to sell such things, but accessories can be an invaluable marketing and promotions tool, and success in the business of fashion is all about promotions.
When you cut up fabric to produce your general fashion designs, you should find that you have a lot of small pieces left over. These are great for making accessories, so you can do so at no cost. This will also allow you to experiment and thus to develop interesting designs even in an area in which you may have little training and expertise.
Creating a Look
When you develop your fashion designs, it's important to remember that you're not just putting together individual garments - you're creating a whole look. It's the look which shoppers are drawn to, the look with which they hope to transform themselves. Accessories are an essential part of that look. This is especially important when it comes to the catwalk. Fashion show promotions are all about conveying your mastery of a new look, and accessories can help you to do so.
When you prepare a model for the catwalk, you'll want them to look as if they're dressed for something real, whether it's a day at the office or a night on the town. There's no point in sending women out on the catwalk in plain dresses and shoes with nothing else - that looks unnatural and limits their potential to be glamorous. Just as important as the garments on display are the accessories used to style the hair; the jewellery worn round the neck, on the wrists or in the ears; the bag being carried; and other details like hosiery, belts, ties and even badges. These details help yo put across the image of a real person who is in command of their appearance.
Acquiring Accessories
Very few people in the business of fashion are equipped to produce all the accessories they need for themselves. Identifying and acquiring suitable accessories for marketing and promotions is thus an important skill. Many designers keep a cache of useful bits and pieces which can be adapted to go with different outfits, but of course it's important not to look like you're repeating yourself.
It's also important not to send an up-to-the-minute, stylish looking model out along the catwalk holding a bag which looks tacky and dated and distinctly last season. Unfortunately, if you're to keep your models looking good, you'll have to invest in some new purchases to use as accessories. However, this doesn't mean that you have to pay retail prices. Often you can negotiate with other designers to get the use of their accessories at a knock-down price - or even for free! After all, they get promotional value from fashion shows and press coverage in which their work is included, too.
When you're looking for further accessories, you don't have to spend a fortune. Charity shops and jumble sales can be great places to pick up classic items which will look good when paired with your hot new designs.
Adding the right accessories to your outfits can take a bit of skill, but it's well worth the effort. It will make it much easier for you to attract press attention to your marketing and promotions, and will help to get you taken seriously in the business of fashion, showing that you have a good overall understanding of what the industry is about.
You might also like...