Interview: Inside Fashion Photography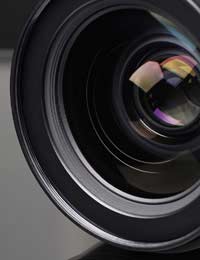 When you've worked hard to create the designs in your range, you'll want to promote them to the best of your ability. We spoke to fashion photographer Stuart Crawford to find out what a fashion photoshoot involves, how to set one up, and what you should expect by way of results.
"I'd recommend a professional fashion shoot to anyone who's thinking of selling things online," says Stuart. "It's also a good idea if you're preparing catalogues or other adverts for your work. What you need is something that sets your work apart from other people's. You need to bring out its distinctive qualities, and if you've got a unique selling point, you need to highlight that."
Finding a Fashion Photographer
For inexperienced designers who don't know what they're doing, finding a photographer might seem like a tricky business. Where should you start? Fortunately, Stuart says, the Internet means it has never been easier.
"There are lots of websites out there that coordinate and bring together models, photographers, make-up artists and agencies. You can go to an agency and get them to package the whole deal for you, finding the right models and that sort of thing, or you can do it more cheaply by sorting it out yourself."
So how much should you expect to pay?
"It's really hard to put a figure on that because the cost depends on so many different factors. You can spend a lot of money to get a high end photographer but then you're guaranteed good results. Less experienced photographers are available more cheaply, or you might be able to find a photographer or models who are willing to do it for free for their own portfolios."
Some designers choose to do their own modelling or get friends to model for them, to cut down on costs.
"That can be a good way to do it," Stuart agrees, "but if you're using your own models you can expect everything to take a little longer. Basically, it's much easier for a photographer to work with professional models who'll have some idea what they're doing."
Preparing for a Photoshoot
What costs the most, when it comes to fashion photography, is time. By cutting down on the amount of time the photographer needs to be there for, Stuart advises, you can reduce your expenditure a lot.
"Think through the entire process first - what needs to be done and in what order. Try to have a clear idea what you want. Have everything clean and pressed. If there are any particular details you want to focus on or anything you want close-ups of, explain that to the photographer at the start.
"It's a good idea to try everything on your models beforehand so that you don't run into problems and delays on the day. If you have several models everything will go more quickly because one can be getting ready while another is being photographed."
What to Expect
Exactly what you get out of a photoshoot will depend on what you want from it, but Stuart explains that there inevitably has to be a balance between quality and quantity.
"For an afternoon shoot, which would be about three hours, you could get up to two hundred or so pictures, or twenty to thirty high quality ones," he says. "Forty to fifty would probably be average. If you wanted something really high concept it would take longer to set up and you'd probably get fewer shots at the end.
"If you want to make the most of your work it really is important to get a professional job done. To a large extent you'll get what you pay for, and the better quality work you get, the further you can go. It really will give you a good return on your investment. You don't want to be in a position where a fashion magazine express an interest in your work and you've haven't got the high quality images it demands; a professional photoshoot can open up opportunities for you."
You might also like...