What to Do if Your Supplier Lets you Down.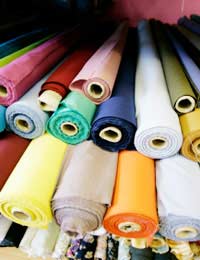 Buying your fabric wholesale, as far ahead of production deadlines as possible, is the only way to work effectively as a fashion designer. However, since you won't want to waste too much money by ending up with large remnants, you'll need to buy only what you're likely to use. If it turns out that you've assessed this incorrectly, or if you get an unexpected last-minute request for more which is potentially too lucrative to deny, you'll need to go back to your supplier. But sometimes suppliers don't keep fabric in stock for long. Sometimes they don't correctly assess demand either, and sometimes their delivery services let them down. To be sure you don't lose out as a result of this, it's important to have a back-up source of supplies.
Working With Fabric Retailers
The ideal response to being let down by your regular supplier is to turn to someone else in the wholesale trade, but sometimes they will have run out of a popular fabric too. In this situation, there is sometimes nothing for it but to turn to retailers.
Because fabric retailers aim to keep in step not with designers but with the general public, they pick up supplies of fashionable fabrics later than wholesalers and keep them in stock for longer. If, for instance, you're making yellow cotton clothes for a particular season, you'll find that the same yellow cotton starts appearing in fabric retail outlets around the same time that your designer clothes hit the shops. This means that retailers can be a valuable source of last-minute supplies. However, since they're targeting their goods at the general public, and since they have to make a profit over wholesale prices themselves, they can be considerably more expensive.
One way to work around the added cost of retail supplies is to form a regular business relationship with a particular retailer. If you bulk buy from time to time, you may be able to negotiate discounts. If the retailer is reluctant to do this, you can offer them publicity in your promotional publications as an incentive. After all, they won't be competing with you if you've bought up most of their supplies of the fabric you're using that season, and anyway, the number of members of the public who copy fashion designs for themselves is fairly low - most people want to pick up the latest fashion with no fuss, which is why you're in business in the first place.
Working With Fabric Designers
If you are unsuccessful at sourcing the fabric you need from a retailer, there's another option. Wholesalers can sometimes be persuaded to reveal the contact details of their own suppliers, the fashion designers, if you are a good customer and they're not worried about losing your business. Normally fabric designers only trade in large quantities, but at the end of a production season they, too, often find that they have misjudged the exact amount of trade involved. If you are willing to negotiate over the price, they may be prepared to sell you their leftovers, which will often amount to more than you need.
To avoid finding yourself in a situation where you have to depend on these methods, it's advisable to develop good business relationships with more than one supplier, and to get to know other people in the industry who may be able to help you. For example, other designers making very different fashion products may be using the same fabrics and may have some left over. Anybody in the industry who is not in competition with you can be a useful ally. Of course, in an ideal world, you would always get your planning right, but when things go wrong it pays to have friends you can turn to.
You might also like...