Using Fashion Trade Shows to Source Products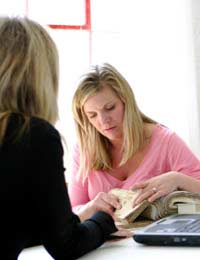 Keeping up with the latest fabrics available to your fashion design business can be hard work. Your regular wholesalers may not change their products frequently enough, but unless you know the trade really well, it can be hard to tell what you should seek out or request. Fortunately, trade show displays can be a great place to spot new things, and you can also use trade shows to make direct contact with cutting edge fabric designers, potentially bypassing the wholesalers altogether.
Fashion trade shows aren't just about displaying the work of designers. They're an opportunity for everyone involved in the fashion industry to get together and develop useful working relationships. It's one thing to use trend books and talk to trend forecasters, but when you see trade show displays you see the real thing.
Identifying Fabrics from Trade Show Displays
Finding great fabric designers themselves as trade shows is ideal, but a more common situation is seeing a fabric you really want in somebody else's designs. Whilst colour and texture fashions change, truly innovative fabrics tend to last over several seasons, so if you think something is likely to be a hit then it's worth chasing it up as soon as possible. However, as you'll no doubt have guessed, most designers are protective of their secrets. However, if there's a designer who doesn't want you to know about their great discovery, you can guarantee that there's a fabric designer out there who does. Whoever has created the new fabric will be advertising it, so it's up to you to obtain all the snippets of information you can which might help you track those adverts down.
When you're looking for information, it helps to talk to the experts. Fashion journalists will often be grateful for your insights into what might be the next big thing, and they may be willing to trade what they can find out in exchange, which will often include details like the geographical origin of the fabric. They'll also be able to warn you if it has been designed on an exclusive contract, in which case you might as well not waste your time searching any more.
Dealing with Fabric Designers
Fabric designers working at trade shows are generally looking to form relationships with wholesalers rather than designers, though they may do this indirectly by demonstrating that their products can attract designers' attention. Don't despair, however - most fabric designers will be willing to trade directly if you offer them a good enough deal. They may offer you an exclusive contract, though this will carry a high premium. Since the exclusivity value of a product fades with time, it's worth negotiating for exclusive access only for six months or a year, thus ensuring that your designs will stand out when they're new - by the time other designers have that fabric, you'll all have moved on to a new collection anyway.
Fabric designers will often carry a number of fancy fabrics to draw your attention to their trade show displays. Don't be tempted to order these unless you know you can use them. Fancy fabrics are harder to utilise in large quantities as the design options relating to them are more limited. Remember that you can always exchange business cards and take a day or two to think about how you can work with the fabrics which interest you. Just don't leave it too long if you're looking for exclusivity.
Ordering Trade Show Fabrics Through Your Wholesaler
When you see an interesting new fabric at a trade show, trying to set up a direct contract with the designer is not your only option. You can also take the designer's details and a fabric sample and show these to one of your regular wholesalers. If the wholesaler is as interested as you are, you can order the fabric through them. This will cost you more per metre and will mean that your discovery is made visible to your local competitors, but it can be much more practical if you only wish to purchase small quantities.
Attending trade shows is a great way to stay ahead in the business of fashion. Just make sure to keep a cool head and be businesslike in your dealing, rather than letting your excitement as a designer carry you away.
You might also like...