Running Your Fashion Business Ethically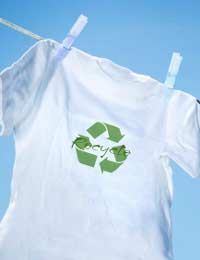 Many people choose to start up small businesses because they're unhappy with the ethics of some of the big ones. Trying to run your fashion business in an ethical way, however, can be harder than it looks. This is because you'll have to deal with a lot of other businesses whose sources and working practices can be difficult to determine. If you want to make a real difference, there are a lot of things to consider.
Working Practices
One of the biggest problems in the fashion industry is poor working conditions, both in foreign sweatshops and right here in Britain. If you are making everything yourself you won't have to worry about this, though you should make an effort to treat yourself fairly (something many small business owners forget). If you need to contract out, the surest way is to recruit independent machinists rather than working through companies.
If you do choose to work with a company, make sure you know on which premises your clothes will be made and pay a surprise visit to see how it all works. Don't be deterred from taking a look around.
Problem working practices apply not only to garments but also to fabrics. Look out for the Fair Trade label on fabrics you buy or check with industry regulators in the countries where your fabrics come from to find out the background of the manufacturers.
Sustainability and Pollution
Whilst natural fabrics might seem like a safer bet, not all are sourced in a sustainable, environmentally friendly way. Cotton is a particular problem as wild land is often cleared in order to grow it and a quarter of the world's pesticides are used in its production. Choosing to use only organic cotton can make a big difference. This also tends to be grown on smaller farms, providing more benefit to poor communities.
Most of the serious pollution caused by the fashion industry comes from the production of plastics used in PVC and leatherette fabrics. These release toxins that can harm wildlife. Using real leather is also considered problematic by some designers because it isn't always a by-product of the meat industry (fine leather tends to come from specially reared cows), and methane produced by the large cow population is believed to be a major contributor to climate change.
The ultimate way to approach fashion sustainably is to use recycled fibres. This is a growth industry and there are some very good products out there, but they are expensive and can be hard to get hold of, so are difficult for new businesses to rely on.
Animal Rights
If you want to avoid harming animals in the production of your products, plastics and leather are not the only things you should look out for. Silk production involves steaming silkworms to kill them. You can find increasingly good artificial silks as an alternative.
Wool production in Britain usually involves high ethical standards, with sheep free to roam around, but this is not the case in every country, so be cautious about buying cheap wool from abroad. Angora and vicuña wool is usually ethically produced.
Recent years have seen a return of fur in the fashion business. It is possible to obtain fur from farmed animals who have not been brutally culled like the seals you may have seen in Greenpeace campaigns, but you should be aware that conditions on most fur farms fall far below British standards for animal care.
Green Issues
Thinking about the carbon footprint of your fashion business makes things still more complicated. Sourcing fair trade products from abroad can do a lot to help the world's poor but should be balanced against the environmental costs of shipping. If you know a reliable importer or can afford to wait for materials, shipping by sea is a much greener choice.
There has never been a better time to make your premises greener. Despite government cutbacks, grants and tax rebates are still available to help you with things like insulation and investment in green power sources.
Who Owns Who?
Finally, if you manage to find companies whose ethical standards make you happy, don't forget to investigate who owns them. A lot of small operators in the fashion businesses are in fact subsidiaries of big companies, which means that some of the money you pay them may go to organisations whose ethics are more dubious. Companies House can help you to find out who really owns the businesses you want to trade with.
Running an ethical business can be hard work but the contributions or ordinary people like you represent the only way the industry will change for the better. Customers are often willing to pay more for ethical products, so don't forget to let them know what you're doing!
You might also like...