Having a Signature Fashion Print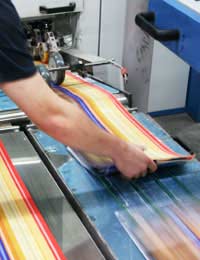 No matter what trend books recommend for the coming season, and no matter how brilliant your own ideas, as a new fashion designer you'll find yourself limited by the fabrics available. Most wholesalers stock a limited range of materials and it can be difficult to use these effectively to create clothes which look different from everybody else's. Wouldn't it be great if you could get your own fabric printed?
Having your own fabric can really help you to stand out from the crowd. As well as making it easier for you to anticipate fashion trends and get that 'Wow!' factor, it clearly identifies clothes as yours, helping you to develop a strong brand image. Using the same printed fabric across a range of designs is particularly effective. But how can you obtain such fabric?
Do It Yourself Fabric Printing
There are several ways you can go about producing your own DIY printed fabrics:-
Use an ordinary ink jet printer. You'll need to purchase special iron-on or sew-on fabric sheets and colour-fast inks. This can be expensive but worthwhile if you want to produce a very short run of items (such as t-shirts promoting an event).
Use fabric stamping. This involves carving a stamp out of balsa wood (potatoes will also work, but won't last long), dipping it in fabric paint and stamping it onto each garment. It's cheap but it can be very time consuming - and time is money!
Wash your garments with machine dyes. These can be mixed and matched to produce particular colours. To create patterns, you can use tie-dying, in which parts of the garment are bound to stop them absorbing the dye, but you won't be able to produce consistent work this way.
Printing fabric at home is a great way to experiment and can be fun to do, but it's generally impractical when you're working on a large scale. What's more, outside the 'ethnic' niche, most retailers won't take designers who use DIY fabric printing seriously.
Professional Fabric Printing
Thanks to the internet, professional fabric printing is easier than ever to source, and the number of companies offering such services has grown as a result of increased public awareness, but in some ways this only makes things more difficult for the new fashion business owner. How can you decide which company to choose? How can you identify a good deal?
The first thing you should be aware of is that many fabric printing services are aimed at the casual, hobby customer rather than at professionals. If you want to order significant quantities of fabric on this basis it will get very expensive. Retail-orientated fabric printers usually have a limited range of materials they're willing to print on, often offering just cotton and nylon. They may not have the facilities to cope with large orders.
Professional fabric printers aimed at the business market handle things very differently. The disadvantage of working with them is that they won't usually handle small orders - generally they start at fifty metres - so you'll have to have sufficient money to invest, be very sure of what you want, and be sure that you can use it all. However, by bulk ordering, you'll cut your costs considerably - the more you buy, the less you'll be paying per metre. You'll also get a much wider choice of fabrics, including textured fabrics like velvet which are difficult to print at home. Because they're used to large orders, specialist printing companies like these will be able to prepare your fabric in a relatively short time and will be able to deliver it to you comparatively cheaply.
Getting fabric printed professionally can require a big investment but, provided your design instincts are good, it offers big rewards. It's a practical strategy when you want to create something which is uniquely yours.
You might also like...