Persuading Retailers to Stock Your Designs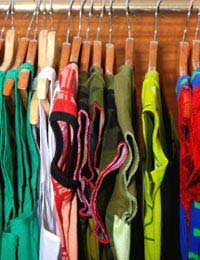 If you want to make serious money with your fashion design business, you're going to have to sell the clothing you produce to shops. Women's clothing is the largest sector of the fashion industry and women do most of their shopping in person, even if they look at photos of clothes which interest them in magazines and on the internet first. But how do shops choose what apparel to stock? How do they identify potential suppliers? And how can you persuade them that your fashion designs are worth taking on?
Getting Noticed by Clothing Retailers
Ultimately, the only way you will get your work into shops is by producing strong designs with real sales potential. But even if you have those, how can you bring them to retailers' attention? There are four major ways to approach this:-
Attend trade shows: Larger retailers, and some small ones, regularly attend trade shows to look for the next big thing in fashion apparel. They're interested in well made, distinctive clothes which will fit in with upcoming fashion trends.
Send out catalogues: Good quality photos of your fashion designs, along with thorough descriptions, may persuade retailers to request sample apparel from you or even to place orders directly. Target your catalogues carefully.
Visit shops: There's no point in trying to sell your clothing directly to large fashion stores, where the people who choose suppliers won't be present, but nothing beats personal contact with smaller shops. Do your research first and show them that you understand their business needs.
Network: Attend fashion-related events and social gatherings and talk to people there about your fashion design business. Exchange business cards and be sure to follow through promptly with a call. Be friendly and make a good personal impression.
Once retailers have seen your work, you're halfway there. Provided it's well made and suitable for their own target markets, they may well consider it. Now's the time to make sure they do. Be pushy. You don't need to be rude, but you shouldn't be too polite either, because the competition won't be. Make sure retailers don't have the chance to forget who you are. If they show an interest but don't take on the first set of your designs that they see, contact them every time you have a new clothing collection available.
Keeping Retailers Happy
It's an exciting moment when you get that first phone call in which somebody says "yes". You'll feel relieved and ready to relax a little, as if the big struggle is over - but in fact it's just beginning.
Once a retailer agrees to stock your fashion designs, you need to negotiate a suitable contract and make the arrangements for delivery. In most cases you won't be expected to provide a large amount of stock in the first instance, as the retailer will want to wait and see how they sell, but be realistic about your production capacity - it's better to set a date slightly later than the retailer's ideal than to let the retailer down by failing to meet that date. Every retailer deals with suppliers in a slightly different way, so try to establish what delivery arrangements will suit them.
Sometimes new designers provide clothing to small shops on a sale or return basis, meaning that you get paid only when your items sell. This reduces the risks for the retailer and makes them more willing to experiment, but it can be a risky strategy for you and should be used only as a last resort.
Once your clothes are in a shop, keep in touch. If possible, visit from time to time. Ask how sales are going and try to pick up on any customer feedback. If your work is selling well, keep the retailer informed about your future plans. As soon as you have placed one fashion collection you should be thinking about placing the next one.
Finally, never rely on just one retailer. Some retailers will try to establish exclusive deals. Limit them to having, at most, an exclusive option on one particular collection or in one particular locale. If a relationship with one retailer breaks down, you want to have others still selling your work so that your fashion business doesn't go down too. Keeping up with retailers will keep your busy, but that's business!
You might also like...
Thanks for the information,a nice resource for clothing entrepreneurs.
october 1st clothing
- 5-Mar-15 @ 9:22 AM