Selling Your Clothes on Market Stalls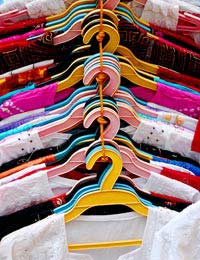 When you're just starting out, a great way to earn some money and boost public awareness of your brand is to sell your fashion designs on market stalls and at special events. The latter may include things like country fairs, industry markets where wholesale clothing is sometimes targeted at retailers, and music festivals - wherever you think that the sort of people who wear clothing like yours are likely to be. A bit of basic research will reveal that there are many more retail outlets available for apparel than just catalogues, websites and shops.
Setting up a Stall
Setting up market stalls and apparel stalls at special events can take a bit of practice, but there are a few things you can bear in mind to help you get it right.
Equipment:What can you expect to find there and what will you have to take with you? Usually you'll get a table and chair; sometimes you'll get a backing board. You'll almost always need to take your own display rails. If you're going to be outdoors, you may want a small heater. In some cases you can get permission to take a stereo and play music to attract customers.
Décor: A piece of fabric to cover your table will make your stall look much better. A plain colour is best, to highlight objects placed on it. You might also want to bring fabric to drape across the back of your stall. Some stall holders use simple ornaments such as dangling stars to create atmosphere. You might also choose to use large pictures of models wearing your designs.
Advertising:A stall isn't just a sales venue, it's a promotional venue. Use banners featuring your name and logo. Provide catalogues (or, at least, flyers pointing to your website) for customers to take away. Have business cards ready for potential trade contacts.
Accessories:Whatever the main products of your fashion design business are, it's a good idea to have some small items to take up table space. Customers who don't have the money for what they really want are likely to impulse buy these and think of you when they look at them in the future.
Free Stuff:Make customers feel welcome at your stall by giving away sweets or small, cheap toys. If you supply the former, try to find vegetarian ones. These things will make customers feel well disposed towards you and be more likely to buy. You should always do your best to be friendly, even if you're tired and cold.
Keeping your Stall Safe
Unfortunately, one side effect of selling from stalls is that your work can be vulnerable to thieves. This is a particular problem when you're selling small items, but there are several things you can do to minimise the risk. Try to close off the back of your stall as much as possible so that no-one can sneak round where you can't see them. Talk to the owners of neighbouring stalls and build a friendly relationship so that you can look out for each other. If you expect your stall to be really busy, take somebody else along to help.
Trade Recommendations
Running market stalls is a great way to meet other people in the fashion industry. It can be particularly useful to get to know people who are selling products which are likely to appeal to the same market as yours but which are not in direct competition (such as a seller of hats and gloves, if you sell coats). Even on the day, recommending one another's stalls can give your business a great boost. In the longer term, you may be able to exchange web links or recommend one another to retailers.
Selling your work on a stall can be exhausting, but it's often great fun. It's a splendid opportunity to get to meet your customers and get direct feedback on your designs. If you put in the work, it can really pay off.
You might also like...
Hi - I have good quality clothings ( about 30 pieces) jeans tops and dress all from Paris - would be good to sell atmarket stalls -not very expensive - please contactm ethanks
Vogue
- 2-Sep-20 @ 3:57 PM
I am from kharkiv... I would like to know what all demands are there during this quarantine like dress ,shoes, jeans , wedding dress, gowns etc.. or may be cooking Ingredients, snacks, any items which we can import here from India...!! So please can you guide for it
Jonsi
- 10-Jul-20 @ 11:24 AM
I would like to sell some asian clothes. But dont know how to do it . Please let me know the procedure and price plz
Sash
- 24-Oct-19 @ 10:04 AM
Own factory intake non brand hot summer t shirt. Verities contemporary fashion clothingone by one excellent factorypackaging products. Want to sell world market Please cell to me 07548654790 Rash
Huq
- 12-Jul-19 @ 12:31 AM
Hay. I hope you very. I have a garments knighting items t shirt namely. Secret love, glamour gloo, Living luxury, lovely fee & Dragon love logo on top T shirt. I want to sell word mark all of my intake factory packaging products. Could you please let me know thanks. Rash Managing director Nice fashion ltd. Uk
Rash
- 12-Jul-19 @ 12:07 AM
I am a recycling company call Stornoway Recycling Company that deals in clothing. I get new clothing with the tags on and second-hand clothing Grades A-B. I am selling new clothing with tags from 10 to 100 items, ten items at £22.50p free postage. One hundred items would cost £225.00p with a discount it cost you £210 and free postage. Can sell women, men and kids mix or separate. I sell second-hand clothing A-B by kg the price is £2.00p per kg plus postage for 10kgs to 20kgs from £11.00p to £17.00p if you buy in bulk 500kgs to 1000kgs cheaper £50.00p to £100.00p by haulage anywhere in the UK.
Gillies
- 22-Mar-19 @ 5:16 PM
Hi, I've want to start my own market stall selling clothes,andjewellery.I would be interested in having a look if anyone has any garments for sale, or if they know of anyone I can go to. Many thanks.
Danielle.b
- 15-Oct-18 @ 3:49 PM
Thanks for that helped a lot.Can I contact anyone freely in here
Ammeg90
- 14-May-17 @ 9:42 AM
hi I am wanting to set up a stall at small festivals this summer but I have no idea as to the volume of stock items need@ of anyone has any contacts for manufacturers of graphic t-shorts please also let me know. I have one already bit would like a variety of stock. thanks.
Hello, I have just recently made a contact where I can get very cheap clothes from Europe and brng them into the UK and sell them, they are ex stock and extra stock produced by large manufacturing companies. I am looking for some wholeaslers to sell but thought this would be a good revenue stream if people are looking for stock.
Mayurp87
- 20-Jan-17 @ 11:01 AM
I need supplier for baby clothes Not too expensive £100 pounds a time and to see garments first No auctions
Kayla2
- 5-May-16 @ 2:10 PM
We have small quantity of Fashion & casual Garment. I would like to sell in world market. If you like Please contact me.Thanks.
Dustin Jeans
- 27-Jan-16 @ 10:55 AM
Hi request information in the post please on; -How to create and distribute your own fashion cataloigue -Advice on running a clothes shop or fashion outlet -Sourcing clothes, retail,manniquins -Logo, label, for your fashion business Please post information Elegant designs Flat18 Whittam house Knights Hill Westnorwood London SE27 0ET thank you
lady
- 21-Jul-14 @ 10:40 AM
We have small quantity of Fashion & casual Garment. I would like to sell in world market. If you like Please contact me.Thanks.
Asanga
- 18-Aug-13 @ 6:01 AM
thank you very much, I will put this into action. :)
kall
- 18-Jul-11 @ 11:31 AM