Logos and Labels for Your Fashion Business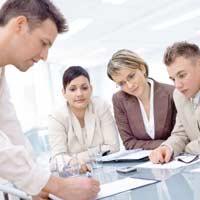 If you know anything about the fashion industry, you'll be aware of the power of labels and logos. So central are they to our idea of style that we sometimes wear them on the outside of our clothes just to proclaim allegiance to a particular designer. But it's not all in a name - logo design can be extremely important. Like clothing design, it's about presenting shoppers with an image they'll want to buy into. A good fashion design business logo sums up the brand it represents and promotes the whole of that designer's work on every individual garment where it appears.
Designing a Logo
You wouldn't be in the fashion design business if you didn't have strong design skills - but designing a logo can be quite different from designing a piece of clothing, or even a whole collection. For this reason, many fashion designers choose to outsource logo design to a specialist company. If you do this, make sure you see examples of logos which that company has produced for successful brands. Ideally, you should look for a company with experience in fashion and in the specific area of fashion where your business is centred.
If you choose to design your own logo, there are several things you should ask yourself about it:-
How well does it reflect your work? A good logo may superficially differ in style from the clothes it represents, but it should share underlying themes. For instance, a logo which represents exercise wear should use exercise themes, even if they're highly stylised and may only effect people subconsciously.
How unique is it? Will your logo be confused with those used by your competitors? If you're involved in niche marketing it will need to fit in with that niche, to be identifiably a part of it, but it will still need to be easily distinguished from established brands. A unique logo helps shoppers to identify you as an innovative designer.
How memorable is it? Think about classic fashion logos. Which are the first ones to spring to mind? What do they have in common? Many designers use signature colours to help customers identify their brands. What colours might work for you and how can you incorporate the into your logo design?
How simple is it? As a rule, simpler logos have a stronger emotive impact and are more memorable. They are also easier to adapt to different situations (e.g.: labels, accessories and letterheads), and they're often cheaper to get produced.
How flexible is it? Many new fashion designers make the mistake of choosing a 'cool' logo, which, it turns out, is only cool as long as that season's fashion trends last, so that it soon looks dated and slightly embarrassing. Try to incorporate classic design features which have already proven their ability to stand the test of time.
Designing a logo may seem complicated, but if you follow these simple rules you can test one design after another until you hit on the one which works. It's often most effective to undertake the design process in a group. If you're starting out on your own, ask friends to help so that you've got somebody to bounce ideas off.
Designing Labels
Labels, even more than logos, need to be kept simple. Occasionally picture labels can be successful, if the picture is highly recognisable, but generally you'll want the option of keeping labels small, so it's wise to stick to basic, easily reproducible designs. If you use signature colours, you can often get away with using just your name, printed in these. Otherwise, you may want to include a miniaturised version of your logo.
Keeping labels simple saves money. Unless you have specialised equipment, you won't usually be able to print your own labels. Most label printing is done as a two colour process and adding extra colours costs more. Avoid the temptation to use metallic threads in your labels as these often cause itching, meaning that your labels are likely to be cut out of garments and your brand identity lost.
The huge discounts available for bulk buying labels mean that it's a good idea to develop a design you can use over the long term. Of course, this also helps to build your brand identity. Designing logos and labels should be looked at as a long term investment for your fashion design businesses, and one which is central to the direction in which you hope it will develop.
You might also like...
hi I'm interested in sending my designs to be bought that have my logo on it,I want to know what is the biggest price of drawings was sold
oskido
- 11-Jul-17 @ 11:42 PM
I have just designed my first set of t-shirts with my own brand name which as been a big hit with everyone I have asked ,and after reading your help comments have realised a few things are missing in my mind set of how to look for sales and retailers to sell.i have found this page most interesting and helpfull thanks