School Rules and Children's Fashion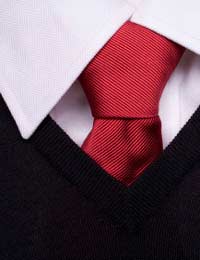 At first glance, the concepts of school and fashion might not go together. Most schools try to stamp out children's obsession with competitive dressing, and many have uniforms. Yet fashion remains as vital as ever to school pupils, however they can get away with expressing it, and designers who recognise this can tap into a lucrative market.
If you're marketing your children's fashion designs primarily in your local area, it can be well worth investigating the dress codes at local schools. Most schools now have websites that provide this information.
Basic Differences
Many schools have dress codes limiting pupils' choices to certain types of garment, rather than imposing strict uniforms. Often these are chosen to fit in with school colours. However although they are supposed to look reasonably similar, there's room for lots of little differences in these basic garments. Because of the restrictions, these differences become a really important way for kids to express themselves.
These basic garments present an opportunity for designers with strong technical ability to really come into their own, and any designer would do well to regard them as good practice. More flattering versions of them, well cut and made with good quality materials, will always be popular. Kids are prepared to spend quite a bit on these as they will wear them all the time. In fact, higher prices can increase their interest as they aim to seem more sophisticated than their peers.
As well as cut and fabric choice, you can embellish these garments with individual touches like pockets, buttons and zips. Ask school authorities for advice if you're not sure what will be accepted. You'll need to keep up well with general children's fashion to know what will appeal.
Outerwear
When it's difficult to compete with indoor clothes, school pupils tend to focus their attention on outerwear, which is generally far less restricted. If you sell clothes suitable for school wear in your shop or catalogue, it's a good idea to market fashionable coats and jackets alongside them.
Children are extremely brand aware and schools can act as microcosms of the fashion marketplace, with a particular brand becoming a must-have among the pupils of one school whilst it's irrelevant or even uncool in another. You'll need to pay a lot of attention to keep up with this.
What's more predictable is colour. Children use outerwear as an opportunity to be seen in the fashionable colours that they can't wear as part of their uniform. They're more likely to be drawn to garments if they're presented in a non-school context in your promotional materials - for instance, if they're worn by a slightly older model and heavily accessorised.
Accessories
Many fashion accessories are banned in schools because of the way they're used to signal status, or because they can cause injuries (as when earrings get pulled in fights), but some cannot be easily restricted, and kids are always ready to make the most of these. Bags are a major fashion essential - they must be practical and strong for carrying books, but they are also used to signal sophistication and social affiliation. Boys tend to prefer sporty styles whilst girls look for copies of the designer items they see in magazines.
In a highly competitive school environment, even socks can be important, though these are often restricted under the school dress code. Where ties are worn the colour options are usually limited, but width, length and fabric can still be varied to fit in with wider fashion trends.
Winter brings scarves and gloves into the equation, allowing for a whole new range of options. The trick is to get a good balance between making these look different and interesting and creating an outright clash with school colours.
Despite the restrictions imposed by schools, fashion is alive and well in the playground, and there's plenty of room for designers to make an impression.
You might also like...