Anticipating Trends in Children's Fashion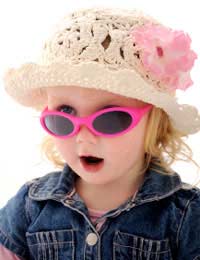 You may not be used to thinking of children's clothes in terms of fashion trends, but keeping up with trends, rather than just wearing attractive or fun clothing for its own sake, is very important to kids themselves.
Even young children can feel a strong desire to dress like the others they meet, or, even better, to have the item that everybody else wants first. So kids' fashion designers have to keep up with emerging trends if they want to appeal directly to youngsters.
Who Makes The Decisions?
There are two ways of approaching fashion trends for kids. The first is to assume that kids want to make their own decisions and are highly conscious about their appearance. The second is to assume that adults are making the decisions on the basis that they want their children to fit in with their own sense of style. In practice, though both these factors play a part in fashion development, it's usually the kids who have the last word.
Where children's fashion is concerned, boys can be just as sensitive about it as girls, though they may have difficulty admitting this directly. Although parents generally buy less clothing for their male children, they spend more per item, so choose what you make and/or stock carefully.
Parents with children often find shopping difficult, so they're more likely to do one big shop at he start of each season than to go out and browse store windows every Saturday afternoon. This means that it's even more important to have all your work in place by he start of the season.
Fashion Influences For Children
Fashion for younger children often develops independently of adult fashion, yet a lot of the same rules for anticipating trends apply. As with adult fashion, the styles that are going to become popular tend to originate in the far east and then move through Europe, yet they are often taken up by fashion-conscious Americans before they reach Britain. Why is this? It's because kids are particularly interested in looking like celebrities, and Hollywood films make a big impression.
Besides Hollywood, kids' TV can have a significant effect on what children want to wear, though there are relatively few programmes that kids consider cool in this way.
Boys are heavily influenced by sporting figures and girls by pop singers. This means that following celebrity styles - exactly as they appear in kid-friendly magazines and on television at times when children are likely to be watching - can help you to anticipate upcoming trends.
Older Children
As they get older and want to become independent adults, children become gradually more inclined to model their fashion interests on adult fashion. However it's not always appropriate to dress children - especially girls - in the same way as their older contemporaries.
If you're designing for older children, pay attention to adult fashion trends and work to see if you can tone them down a bit. This can often be done by layering, such as putting a skimpy top over a long-sleeved t-shirt.
In order to get a strong sense of what's going on in children's fashion, it's vital to talk to children themselves. Often they can prove surprisingly astute about developing trends.
Most significantly, socially successful children have a strong sense of what is not acceptable to them, which can make it easier for you to avoid a fashion faux pas. This can leave you more room to be original and to try to carve out a distinct market niche of your own.
You might also like...