Practicality and Durability in Children's Clothing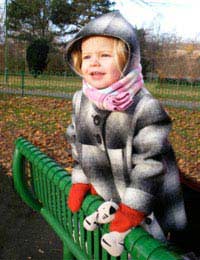 When making clothing for adults, it's not always appropriate to worry too much about practicality and durability, as clothes chosen for fashion reasons may only be worn a few times and are likely to be treated well. Children, however, can be expected to give their clothes a rough time most of the time.
Keeping up with buying clothes for a growing child can be expensive and many parents look for garments that, in time, they'll be able to pass on to younger offspring - so those clothes have to be built to last.
Understanding Children's Needs
In order to make practical clothing for children it's important to understand how their needs differ from those of adults. They tend to be more physically active, so they need clothes that are flexible and comfortable to move in (even babies generally do better in romper suits than in dresses). Also, because they're smaller, they lose heat more quickly, so they need good insulation. Winter clothes need to be carefully designed to provide this without becoming too bulky to move in.
Children's clothes need to be easy to get in and out of. Parents should be able to remove younger children's clothes quickly when they've had food spilled all over them or similar accidents, and clothes for slightly older kids should be designed so that they can learn to get them on and off by themselves.
Try to keep fastenings simple and avoid unnecessary details such as button-up cuffs unless the children you're designing for are old enough to deal with them.
Fabric Choice
Though there are a lot of other concerns when choosing fabric for children's clothes, you should make sure that it's strong and doesn't tear easily. Fabrics with a bit of stretch in them are much more likely to last. Lycra has precipitated a revolution in children's clothing design, though you should be aware that it doesn't always survive well over time.
Whilst denims can be a good choice for hard-wearing children's garments such as jeans or jackets, they need to be carefully handled, as stiff fabric and bulky seams can restrict younger children's movement too much. Alternative heavy cottons can be a good compromise, and can even be used to make denim-look clothes for fashion conscious kids.
Children are outdoors a lot more than adults, so kids' clothing has to be resistant to the elements. However, because their skin is more sensitive and needs to be able to breathe properly, conventional waterproofs can be a bad idea. New, breathable waterproof fabrics, though they may be more expensive, are a much more practical choice.
Temptation
As well as surviving play, harsh weather and frequent washing, clothes made for children need to be able to survive their innate desire to take things apart. If there is a thread loose, a child will pull it (tuck away your finishings); if the fabric bobbles and develops fuzz, a child will pick it apart; buttons that sit close to the places where hands naturally rest will be fiddled with until they eventually come off.
It's impossible to make clothes that are completely resistant to this behaviour, but you can at least aim to avoid obvious temptations. Strong seams are important and if you're using distinctive buttons then it's wise to provide a few spares for parents to replace them with.
In some areas of fashion you will find that you're advised against making durable garments because then customers won't need to replace them, so they won't buy from you again. However, the fact that children keep growing guarantees that parents will return to you if they're impressed by what you're selling.
Furthermore, success in the children's clothing market is heavily based on word of mouth, so by producing good quality products you can make sure parents - and sometimes kids, too - tell their friends about you, helping you to establish your name.
You might also like...