Making Premises Family Friendly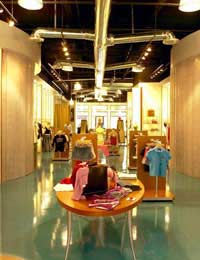 If you're selling children's clothes or clothes likely to appeal to young parents, making your premises family friendly can have a big impact on your sales. Anybody who has taken children shopping will know how difficult it can be, but with a little imagination you can make it much easier and create a welcoming atmosphere that will encourage your customers to return again and again.
Floor Plans
One of the trickiest parts of shopping with children is trying to navigate crowded aisles whilst holding onto them, especially if there is also a pushchair to think about. There are two ways you can approach this as a shop owner. The first is to provide a suitable space for leaving pushchairs and perhaps children at the front of the shop - safest if your cash desk is in the same location. The second is to broaden your aisles, which will also make your shop more accessible for disabled people.
Most shop owners put out far more stock than they need to. This is especially true if you are a small business with a relatively small number of different items on offer. You can always put up notices to clarify the size range they are available in, and store more in the back or on high shelves where they are out of the way but easily reached on request. This will also mean your stock is safer from damage.
Remember that wider aisles are no help unless you can also keep them free of clutter. Don't be tempted to use them as temporary storage space when moving boxes around. The last thing you want is a pushchair getting stuck and knocking things over.
Rest and Relaxation
Because shopping with kids is tiring, parents will always welcome somewhere to sit down. Simply placing a sofa in your shop can transform it into a place where people will be happy to stop for a rest, and many will make impulse purchases when they do so. Placing that sofa near the window means passers-by will see the shop looking busy and friendly. Site your cash desk nearby so you can chat to customers and get to know them.
Once people start visiting your shop for a sit down and a chat they will mention it to their friends and you'll get free publicity. You can have the same effect on your younger visitors by providing simple toys to play with. Be careful to choose items that won't end up scattered around on the floor. Try keeping a shop mascot such as a friendly teddy bear whom children can say hello to when they visit.
Temptation
There are many different views on the wisdom of tempting younger visitors with impulse buys. It's true that kids will often bully their parents into making small purchases when they see appealing accessories near the cash desk, but because of this parents will often avoid shops with displays of this sort. There can also be problems with children shoplifting, whether or not they are old enough to realise it's wrong - or simply scattering small items on the floor.
If you want to keep accessories on display in a family-friendly shop, a better idea is to have them behind the cash desk where they can catch they eye without being so easy to grab. This will make things easier with parents. Be ready to side with them sometimes when they say no to a requested purchase. It may cost you a sale but they'll remember the favour and be more likely to come back again later.
All about Attitude
Overall, the best way you can make families feel welcome in your shop is simply by paying attention to them and helping them out when they need it. Be patient when they are stressed and don't let yourself become stressed by misbehaving kids. If you can keep a positive attitude you'll find your work more pleasant and your shop will come to be seen as a fun, friendly place to be.
You might also like...