Working With Wool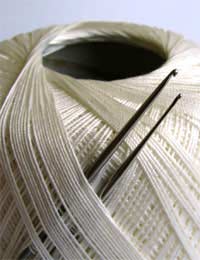 If you're making winter wear, there's nothing that combines insulation and breathability quite like wool. You might be surprised to know that some wool fabrics can also be a great choice for summer clothes and cooler to wear than cotton! But whatever you're making, wool fabrics require care, attention and understanding if you want to get a good result.
Some people have skin which is hypersensitive to the lanolin in wool, producing an allergic type reaction. These people will never be able to wear wool comfortably unless it is carefully lined. However, many people who think they are allergic actually just have sensitive skin which is scratched by the wool's coarse fibres. Choosing a softer wool often means they can enjoy wearing it after all.
Types of Wool
There are two basic types of wool fabric - woollen fabric and worsted fabric. The former are thick and soft, with a fuzzy surface and spongy texture. They're very efficient insulators and are the best choice for outerwear. Worsted fabrics are differently produced to make them smoother and lighter - they're ideal for closely tailored garments.
Not all wool is from sheep. Cashmere and mohair are from goats, the former very soft and the latter strong and shiny. Angora wool is from a type of rabbit and is ideal for baby clothes. The softest type of wool is from the vicuña, a type of llama, but is very expensive and is unsuitable for vegetarians (the vicuña is usually killed to obtain it). The best wool for insulation contains fibres taken from camels.
Many different sub-types of fabric are made from wool, some of the most popular being as follows:-
Felt - Unlike other wool fabrics, which are woven, felt is made by heating fibres and tangling them together. It has numerous uses in dressmaking, and is ideal for giving shape to collars and cuffs.
Flannel - Soft, light and highly breathable, flannel is ideal for summer clothes, exercise wear and sleepwear. It's gentle on the skin so can be used for children's clothes.
Tweed - Sturdy and roughly-textured, tweed is a great insulator but is easy to sew and great for tailored outer wear and warm winter suits.
Gabardine - Tightly woven, fine and lustrous, this is perhaps the easiest wool fabric to work with and it looks really good in suits and jackets.
Jersey - Lightweight but warm, this is a great fabric for spring and autumn clothes, when you want something comfortable and insulating but not too heavy.
Sewing Wool Weave Fabrics
Most wool fabrics have a nap, though this isn't always immediately apparent to the eye. This means that you should be careful when cutting pieces to fit your pattern. If you're developing your own design, remember that woollen fabrics can get really bulky at the seams, so make sure you leave plenty of room for the wearer to move. Lining fabrics should be light and flexible.
As with all woven fabrics, wool is best sewn using a ballpoint needle that will slide between the fibres rather than damaging them. For most wools you will need a heavy grade needle and a strong, textured thread such as cotton. Because wool doesn't tear or fray you can keep your stitches simple. Take it through the machine slowly and keep adjusting the tension as required.
Wool can absorb an awful lot of water, so don't use a steam iron to press it. Generally speaking, woollen fabrics will not take creases, but worsted ones can be shaped in this way. Use a cool iron. You should also avoid exposing wool to higher temperatures (anything over 30ºC) in the wash.
Made properly, wool clothes are extremely comfortable and highly resistant to wear and tear, so they're well worth the effort you put into making them. A good wool garment will serve you well for a long time.
You might also like...
Really really enjoying your site, it has so much valuable information. Thank you
Toya
- 14-Feb-12 @ 11:49 PM