Sewing Satin, Silk and Shiny Fabrics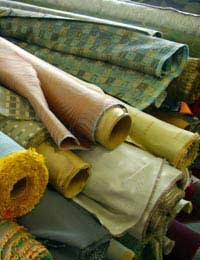 If you're making something special to wear for an evening out, or if you're making something sexy for an evening in, nothing combines glamour and sensuality quite like satin or silk. They can also look fantastic in home furnishings. With a range of other attractive shiny fabrics on the market, you can now get exactly what you want to suit your look. But how should you handle these fabrics to get the best effect?
Preparing the Pattern
Although fabrics like these may look shiny however you hold them, most have a definite nap. This means you'll need to be careful how you arrange your pattern so that separate pieces of fabric look right next to each other. If you can't spot the nap easily, try using an angled light source like a lamp held close to one end of the fabric, or feel for it with your fingers.
Silk and satin can be very easily pulled and damaged, so anything you use to cut them should be very sharp. Beware of snagging when you cut and pin, and remember that every pin hole will be visible permanently. This means that alterations will look bad, so take your time and make sure you've got things right before you start pinning and sewing.
Sewing Machine Settings
Because shiny fabrics are also slippery, it can be difficult to control them as they pass through your sewing machine. Not only can your seams go astray, but bunching can permanently damage the fabric. To get around this, gently pin or tack your fabric to tissue paper to provide a stable surface which you can easily peel away after the sewing is finished.
Most satin and silk type fabrics respond best to medium or long stitches. Avoid complex stitching because this can pull and distort the fabric. If you want to attach a trimming such as lace which needs a stitch like this, use a simple stitch to hem the fabric first. Always keep your thread tension low. Use a slender, smooth thread such as silk thread or pure polyester - cotton is a bad idea, as it tends to tug at the fabric.
Many shiny fabrics fray so they will need to be carefully finished. This will need to be done by hand, again using a carefully chosen thread. Don't use adhesive bonding fabrics to secure hems as they're likely to stain the fabric.
Pressing
Satin and artificial fabrics often take on a rounded shape, with curved seams and hems, when they're finished. You can press these gently with your fingertips to straighten them out, but don't be tempted to flatten them, as this will often result in pulling and distort the shape of the finished garment.
It's important not to use a steam iron when pressing satin or unwashed silk, as moisture can stain them and even cause them to shrivel. You can use an ordinary iron, but keep the heat low. If you're not sure what you're doing, ironing through a tea towel is a good way to keep the fabric safe. Avoid ironing seams against the opposite side of the garment, as this will press through and create creases.
Satin, silk and other shiny fabrics may be hard to work with, but patience and care will pay off, and when you get used to handling them you'll be able to create some truly fantastic clothes.
You might also like...