Sewing With Summer Fabrics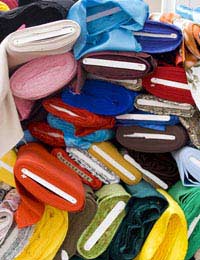 When summer is on the way, it's always exciting to be able to cast aside those heavy winter clothes and wear something light and comfortable. It's even better if you can have the pleasure of making it yourself. But, fashion aside, what fabrics are practical for summer, and how should you approach sewing with them?
Fabric Choices
When you're choosing summer wear, you're likely to think first of something lightweight. This is a good start, but not all lightweight fabrics are practical for warm weather. Those which contain a high proportion of artificial fibres such as nylon and polyester are liable to trap sweat and make the wearer feel itchy and irritable.
Cotton, linen and lightly woven wool are still the best choices for summer clothes, though many cotton blends are also comfortably breathable. Light colours are usually the best choice but there's nothing wrong with darker colours if you're not going to be in direct sunlight for long at one time - although they heat up more quickly, dark fabrics also cool down more quickly once you get inside.
Because everybody sweats in summer, summer fabrics should be selected on the basis that they'll be able to withstand frequent washing. If you want to use a bright coloured fabric, wash a swatch of it first so you can tell how much it's likely to fade.
Although some people enjoy showing off their bodies in summer by wearing skimpy figure-hugging clothes, more substantial garments need to be able to move to stay cool. This means that looser cuts are a good idea, and you should choose lightweight fabrics that will move around when the wearer walks or when there is a breeze. Avoid leather and plastic-based or shiny fabrics which can stick to the skin.
Working with Summer Fabrics
Because the most popular summer fabrics are light and thin, sewing with them is relatively easy. However, for good results, there are a few things to bear in mind. Unless you're using a wool-based fabric or silk, you'll want a sharp needle and a textured thread, such as cotton. Because most summer fabrics are lightly woven and subject to fraying, you'll need to use a short stitch and hem and finish garments carefully.
Most summer fabrics tear easily, so it's best to use generous seams and wide hems. Keep the tension on your sewing machine relatively low - it's better to have to rethread every now and again than to risk tugging and damaging the fabric. Press garments carefully afterwards to get rid of unwanted creases.
Lightweight summer garments can easily be pulled out of shape by heavy accessories, so it's usually better to use plastic zips than metal ones, and to use plastic, shell, fabric or light wooden buttons. Make sure you don't leave plastic or metal pressing against the skin where it can easily cause irritation in hot weather.
There are lots of attractive and easy-to-sew fabrics out there from which you can create your summer wardrobe. Because they're generally cheaper and simpler to work with than winter fabrics, summer is a great time to experiment with new cuts and try out new styles, to discover what you really love.
You might also like...