Interview: How I Started My Fashion Business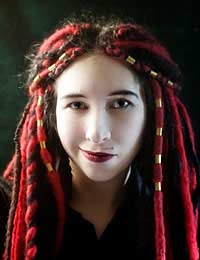 Starting up your own fashion business is beset with challenges but that didn't deter Glasgow designer Jane Faye, whose striking and unusual work has been turning heads throughout the UK. What made her decide to take the plunge, how has she achieved her successes so far, and what are her hopes for the future?
Alternative Fashion
Jane's company is called Gaia Noir and the work it produces is aimed at the alternative fashion community, an expanding niche market. Accessories are as important to her business as clothes. "I make a lot of fashion and custom dreadlocks," she explains, "plus some custom clothing and ready made steampunk and gothic wear."
Another big concern for Jane is making her products as eco-friendly as possible. This gives her a niche within a niche, as few of her competitors in the alternative market are working this way. She is pleased to be able to do her sewing for herself and avoid using sweatshop labour. She focuses on materials that are recycled, organic, or come from Fair Trade sources, as well as reworking vintage garments to produce custom items.
Starting Out
Jane's decision to get into the fashion industry came when she graduated from university, but with a degree in Scottish Literature and English Language she had no formal training in either dressmaking or business. Initially, she says, her business just developed by itself. In retrospect she thinks she was probably too independent.
"I eventually went to Business Gateway but it would have been better to do so at the start," she says. "I took some free workshops to learn more about things like SEO marketing. The learning curve was quite steep but when I made bad decisions I learned from those too." Within a few months she was reasonably confident about her skills and her business was beginning to bloom.
Understanding the Market
Like many people, Jane first took an interest in fashion when she started making clothes for herself in her early teens. "I didn't have much money so I couldn't go and find nice things on the high street. Instead I'd go to charity shops and see what I could find, which gave me a lot of ideas, or I'd make my own things. I'm lucky in that I'm part of a subculture that respects people who craft."
Despite this, she understood from the start that designing for herself and designing for other people are two different things. "I have my own ideas about what I'd like to wear myself but I don't think many other people would want the same things. I'm also keen to be as friendly as possible to people of all shapes and sizes. I often put plus sizes on the front page of my website and I can make extra large clothes to order."
Wearing many of her own designs means that Jane has benefited from getting a lot of feedback about them in person, enabling her to concentrate on those that people respond to most enthusiastically. This also helps to spread the word about her work.
Promotion and Sales
Initially Jane's work attracted buyers purely through word of mouth but as time went on and her business developed she knew she would have to do some active marketing. She now promotes and sells her clothes not only through her own website but also through craft website Folksy, at craft fairs, and at burlesque events.
Although it's still early days for her business, Jane has been successful in getting attention by doing things like link swapping and offering prizes for competitions. She is now building up a strong reputation and hopes that Gaia Noir will be trading for many years to come.
You might also like...