Fashion Design Training, Courses and Funding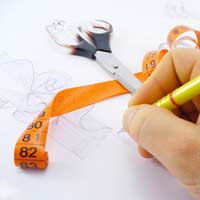 When you're putting together your business plan, business support service advisers are bound to ask you what fashion design training you've had. The fact is that many people get into the fashion industry without any formal fashion training at all, simply because they're passionate about clothes. But passion won't be enough to convince potential investors that your business knows what it's doing. Fortunately, there are fashion business courses and other forms of training available to help you over this hurdle. And you don't need lots of money to access them.
In the first instance, you should talk to your local business support service about grants for study. There are several different grant programmes which you might fit into. If you're under 26, if you've been unemployed for over six months, or if you come from a deprived area, you may be able to get up to two years of training funded by the state. There are also some special initiatives set up to help women get into business. And if two years sounds like too much, there are also short courses available and courses which you can undertake after starting your business. If you have fashion experience but lack business training, there are free two to four week business start-up courses you can participate in. If financial matters are confusing, the Inland Revenue run free training days.
General Fashion Design Skills
In order to persuade investors to get involved with your business, you'll need to demonstrate that you have some kind of fashion design training. This can vary from a university degree in fashion design to an internship at one of the big fashion houses. Many colleges run practical hands-on fashion training courses. A work-based City and Guilds qualification can be completed with part time study in as little as a year. There are a few courses available which can enable you to study fashion by distance learning, working at home, but the options available within them are quite limited. Professional organisations like the Chartered Society of Designers (http://www.csd.org.uk) can sometimes offer professional qualifications.
The Business of Fashion
If you do have fashion training, of course, that still doesn't mean you can run a business. You'll also need to demonstrate your business skills - or at least good business sense - before you're likely to attract funding. Fortunately, there are now some specific fashion business courses available which can provide you with useful training and look very impressive on your CV. The prestigious London College of Fashion, for example, runs a series of short courses dealing with different aspects of running a fashion business which are practically arranged so that you can fit in your working patterns around them.
Taking a fashion business course can be useful not only for attracting funds, but also for improving your day to day business management skills and for giving you transferable skills so that, should your business fail, you'll still be more employable than you were before it started.
Funding for Fashion
Besides the usual sources of small business funding, there are two others which can provide help for fashion businesses specifically:-
The Centre for Fashion Enterprise (http://www.fashion-enterprise.com) provides fashion industry funding and expertise to promising new designers.
The Creative Capital Fund (http://www.ccfund.co.uk) provides funding to creative industry businesses in London, but only if its funding is matched by private investment from other sources.
Fashion business funding can be difficult to find via the usual routes due to the popular assumption that creative people cannot also be good business people, but if you have fashion business courses to your credit and strong business ideas, there's no reason why you shouldn't be able to change investors' minds.
You might also like...
Hello Jennie, I want to set up a Fashion institute. I would need a help with the development ofthe curriculum for a two-yeartraining program (Diploma in Fashion Design). Grateful if you can direct to where I can get help.
Mike
- 14-May-20 @ 10:25 AM