Adjusting Your Business for a Changing Market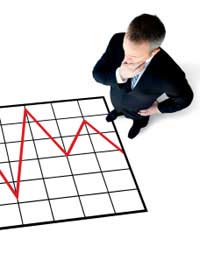 Now that the country is facing economic slowdown, it won't have escaped your attention that a lot of small businesses are going under. What can you do to keep your business alive and thriving in these difficult times?
Identifying your Strengths
When times are hard, it's all the more important to understand the advantages you have and make the most of them. It's worth taking a look at this pre-emptively even if you're not yet struggling, as things are inevitably going to get more difficult for everyone. Look closely at the way your designs are selling and pick out your most successful items. Prepare your production and promotion systems so that if you have to scale back you can focus on what brings in the most money.
Because a lot of small fashion businesses are struggling and people will always need to buy clothes, you don't need to be brilliant to keep going, you just need to stay ahead of the competition. Try to identify areas where you are more successful than your peers. If you're getting really good returns on your investments in certain areas of marketing, concentrate on those and cut back in other areas. This will help you to minimise risk.
It's also worth thinking about your strengths as an individual - and, if relevant, those of your colleagues or staff. How can you make the most of these? Make sure you're working efficiently rather than tiring yourself out trying to stay ahead.
Dealing with your Weaknesses
One common problem facing businesses in a recession is difficulty in taking out business loans. Unless you have money saved, now is not the time to expand - try to keep your expenditure steady and don't be tempted to take on loans with interest rates that may get you into difficulty simply because they're the only thing available.
If you already owe money, work out a payment plan so that you can cut down your debt at the swiftest possible manageable rate. This doesn't mean paying it all off immediately, even if you technically could - it's often better to have a bit of debt and a bit of cash than to give up your flexibility. Even in a recession, most creditors will be happy as long as you're making reasonably sized regular payments.
You may also find that you struggle because companies you are trading with collapse. Try to make sure you get paid as quickly as possible by your buyers, as you may have great difficulty reclaiming your money (or goods) if they go into receivership. Be proactive in identifying alternative chains of supply so that you're not dependent on single wholesalers.
Big companies also struggle in times like these, and when major high street stores are dropping their prices all the time, it's hard for the small fashion business to compete. Don't get dragged into a game you can't win. If they're concentrating on low prices, concentrate on quality. Demonstrate that your garments are a practical choice because they're more wearable and will last better.
Understanding Changing Customers
Although many businesses struggle in a recession, others may unexpectedly prosper, and the key to this very often lies in their understanding of the needs of their customers. Because customers are struggling too, their purchasing patterns will change. They'll spend less on luxury goods and will focus on those things that they consider essential.
Focusing your own production on essential items is a good strategy, but if you can't easily do this, don't despair. Another thing you should bear in mind is that customers facing hard times are often anxious to have some fun. If you can produce exciting yet affordable items and market them as a practical way they can treat themselves, you could be on to a winner.
Facing the Worst
If the worst comes to the worst and you feel you can no longer go on trading as you have been doing, don't panic. There are still several options open to you. You might be able to close a boutique but keep on trading via a website, drastically reducing your overheads; or you might be able to find another struggling business with a similar approach to fashion and merge your resources to give you a fresh shot at success.
Even if you have to drop out of business for a while, shutting down carefully will leave you the option to get up and running again with minimal trouble - and minimal cost - when times get better. In the meantime, why not do some custom work to keep your name out there? This will keep your design skills sharp and, when you eventually return to normal business, you may do better than you did before.
You might also like...